I confess: I'm not a natural-born tagger. A while back, when Amazon.com began allowing its customers to tag its products with descriptive labels or keywords, I thought it would be a good way of categorizing and cataloging books I'd come across that I might want to remember in the future. But after tagging a couple of books, I lost interest. It didn't seem worth the fuss.
Some people, though, are more dedicated. They've found creative ways to use tags to label and categorize Amazon's products – for their own benefit and for the benefit of others with similar interests. I recently received an email from a reader of this blog who described how, in browsing for DVDs at Amazon, he came across some creepy keywords that users had used to categorize movies. The 1985 French coming-of-age film L'Effrontée, for example, had been tagged, as shown in the screen shot below, with such keywords as "child nudity," "infant nudity," "young girl," "bare butt," and "nymphette":
If you click on any of those keywords, you get a neatly organized list, sometimes going on for many pages, of other movies that users have tagged with the same label. A lot of the tags on L'Effrontée also appear, for instance, on the Amazon page for the Oscar-nominated 1998 Norwegian movie The Other Side of Sunday: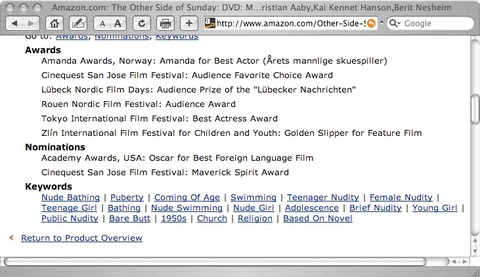 One possible explanation is that the tags are being added by people who are offended at seeing things like naked babies or bare behinds in movies – and are trying to warn off likeminded folks. But, let's face it, that's a stretch, particularly when you view the tags in their totality (or look at the buying patterns that Amazon documents). What's really going on here, almost certainly, is that weirdos are using keywords to, in effect, set up special little sections of Amazon's store tailored to their peculiar tastes. That shouldn't come as a surprise. You don't have to travel far down the long tail of demand before you start finding unsavory niches. And it certainly could be argued that, however distasteful this kind of tagging may be to most people, no one's actually being harmed by it, at least not directly. Should we really care what motivates people to watch particular movies in their own homes?
Still, the practice of this sort of communal tagging at a popular mainstream site raises some difficult questions, not least for the site owner. Does Amazon really want to be known as a company that makes it easy for people to find movies labeled as containing "child nudity." If it were a physical store, would it set up a "child nudity" section in its movie department? I don't think so.
But there's another twist to this story. The keywords, it turns out, aren't actually coming from Amazon's customers. If you scroll further down on the DVD pages, you find another set of tags which are coming from Amazon users – and are, so far as I can see, fairly inoffensive. The unseemly tags appear to be part of the information on movies that Amazon automatically imports into its site from the popular Internet Movie Database (IMDb) site. Although there's no indication that the keywords come from IMDb on Amazon's main product pages – theye tags are described simply as "plot keywords recommended by customers" – if you click deeper into the product information you find an indication that that is where they're coming from. And, indeed, the user keywords at IMDb precisely match those found on Amazon.
There's a useful warning here. Commercial site owners don't just have to keep an eye on the words, pictures, tags, and even categories being added to their pages by their own users. They need to be cognizant of the user-contributed content they're pulling in from other sites as well. Once it appears on your site, it's your business. What they say about sexually transmitted diseases seems to apply equally well to data in the Web 2.0 age: You're not just sleeping with your partner; you're sleeping with your partner's partners.
UPDATE: Another twist: In a comment on this post, a reader notes a fact that I missed: IMDb is in fact a subsidiary of Amazon.com, having been acquired back in 1998. I had convinced myself that Amazon was probably unaware of the kinds of tags it was pulling in from IMDb. I guess I was wrong.