« The Economist tours the cloud | Main | What Tim O'Reilly gets wrong about the cloud »
The ultimate social network
October 25, 2008
The British design collective rAndom International, together with artist-programmer Chris O'Shea, have created an exhibition, called Audience, that provides, literally as well as figuratively, a mirror image of our hyperconnected selves. The installation consists of 64 robotic mirrors, each of which "moves its head in a particular way to give it different characteristics of human behaviour. Some chat amongst themselves, some shy away and others confidently move to grab your attention."
But what's most interesting is the way the mirror-bots behave as a social network: "When members of the audience occupy the space, the mirrors inquisitively follow someone that they find interesting. Having chosen their subject, they all synchronise and turn their heads towards them. Suddenly that person can see their reflection in all of the mirrors. They will watch this person until they become disinterested, then either seek out another subject or return to their private chatter. The collective behaviour of the objects is beyond the control of the viewer, as it is left entirely to their discretion to let go of their subject."
I'm agape.
The exhibition debuted last month at the Royal Opera House in London, where the videos were shot. I discovered it via a post by Kottke who found it via a post by Sippey. And so, link by link, we turn our collective gaze toward the mirrors that return the favor. It seems like something Escher might have dreamt up.
Comments
That's neat! Metaphor brought to life :-)

Posted by: Seth Finkelstein

at October 25, 2008 07:00 PM
The point is beautifully conveyed. I can't think what it took to create that.
Posted by: Russell

at October 28, 2008 03:22 PM
Post a comment
Thanks for signing in, . Now you can comment. (sign out)
(If you haven't left a comment here before, you may need to be approved by the site owner before your comment will appear. Until then, it won't appear on the entry. Thanks for waiting.)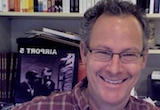 Subscribe to Rough Type
Now in paperback: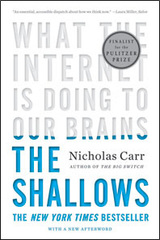 Pulitzer Prize Finalist
"Riveting" -San Francisco Chronicle
"Rewarding" -Financial Times
"Revelatory" -Booklist
The Cloud, demystified: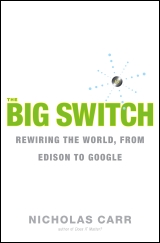 "Future Shock for the web-apps era" -Fast Company
"Ominously prescient" -Kirkus Reviews
"Riveting stuff" -New York Post
Greatest hits
Avatars consume as much electricity as Brazilians
The love song of J. Alfred Prufrock's avatar
Flight of the wingless coffin fly
Other writing
The end of corporate computing
The limits of computers:
Order from Amazon

Visit book site