« A pointer | Main | On the trail of the itinerant computer »
Wikipedia's new slogan
June 22, 2008
Wikipedia has long promoted itself as "the free encyclopedia that anyone can edit." But Jimmy Wales offers a new, circumscribed slogan in a column in today's Observer. Wikipedia is now, according to Wales, "the online encyclopedia in which any reasonable person can join us in writing and editing entries on any encyclopedic topic." The old slogan was the language of the bazaar. The new one is the language of the club.
(Disclosure: I'm on Encyclopedia Britannica's editorial board of advisors.)
Comments
I can't wait for Google to open up its Knols. I think they will be a really fascinating challenge to Wikipedia and Britannica. Let's hope they don't ditch the idea before it even gets off the ground.
Posted by: Charlie

at June 22, 2008 07:34 PM
"The would-be encyclopedia anyone can work for free" is more accurate.
Posted by: Seth Finkelstein

at June 22, 2008 08:25 PM
So what's Britannica's slogan then? "The expensive Encyclopedia whose website is choked with ads" ?
Posted by: Kevin Marks

at June 22, 2008 09:47 PM
Kevin,
Most of those ads choking the Britannica site seem to be supplied by your employer.
Posted by: Nick Carr

at June 22, 2008 10:15 PM
Regardless of the "new" slogan, I think Jimmy's efforts are truly commendable. His visions of a world with a neutral, biased-free, gratis encyclopedia readily available to everyone is, to my eyes, an admirable ideal.
Posted by: Elvis Montero

at June 22, 2008 11:10 PM
The old slogan was the language of genius, short and catchy. The new slogan is the language of something designed by a committee.
Posted by: Elad Kehat

at June 23, 2008 03:17 AM
As much as one might deride JW's or wikipedia, its popularity can't be denied.
To maintain that the changes of wikipedia's culture are negatives demonstrates one difficulty that arises when technology intersects with cultural norms.
To imagine that any venture as complicated as wikipedia would have to manage some transformation as it matures is not such a stretch!
Why is free participation a negative Seth? The impact that wikipedia has had greatly outweighs any such quibble.
The landscape might not always be pleasant to the eye but isn't that what the journey is about, change.
Regards, Alan

Posted by: alan

at June 23, 2008 09:58 AM
>The new one is the language of the club.
That's good, right? Isn't that what you said it should be all along, Nick, and why you joined Britannica?
Posted by: Kevin Kelly

at June 23, 2008 02:37 PM
No, Kevin, when it comes to Wikipedia I long ago converted to the Inclusionist cause (and have been an advocate for it for about two years). It's interesting that Jimbo has now outed himself as a Deletionist ("any encyclopedic topic"). Which side are you on?
Let Wikipedia be Wikipedia!
Posted by: Nick Carr

at June 23, 2008 05:25 PM
I disagree with your interpretation. Mr. Wales, in my opinion, is not so much converting to "club" language as being strictly accurate. If, for example, someone logs on to Wikipedia and begins being unreasonable, trashing the hard work of others and causing problems, is it surprising that they will be booted? Thus phrases like "the encyclopedia that anyone can edit", while largely fair, are somewhat reduced from the more subtle reality that troublemakers don't get the privilege to edit.
It is my opinion that Mr. Wales is concentrating on avoiding the question of deletionism vs. inclusionism, of "bazaar" vs. "club"; his point in the piece is rather removed from these ideas and focuses instead on issues such as Wikipedia's future, its current status, and, in particular, its greater meaning. The circumscription you mention is mere avoidance of an issue that is tangential to what he describes, and I don't think it should really be taken as more than that.
Posted by: Nihiltres

at June 23, 2008 06:40 PM
alan - That's like saying "The wonder of the pyramids greatly outweighs any such quibble about the slave labor used to build them".
Sigh, and no, I don't mean to imply Wikipedia is built on slave labor (just cult labor), but rather this is against an ends-justifies-the-means argument for it.
There is an enormous human cost embedded in Wikipedia that is not accounted for in hype pieces like the above.
Posted by: Seth Finkelstein

at June 23, 2008 06:45 PM
> any encyclopedic topic
Doesn't "encyclopedic" mean "encompassing all knowledge"? My problem with the ultimately tiresome inclusionist vs. deletionist arguments is that nobody ever seems to define terms adequately.
The fact remains that Wikipedia fills a much-needed niche that acts as a complement to the wilds of the internet, even when these are tamed and ranked by Google. If you need a neutral POV summary of something, Wikipedia is usually the only source that provides it, and typically at or near the top of the Google rank for the topic. Pretty much everyone I know uses it constantly, and would cry a river if anything ever happened to Wikipedia.
As such, I'm always astounded at the amount of bile that gets vented toward Wales and his creation. The comments at the bottom of the Observer article read like Daily Kos comments on the Bush administration and its environmental policy.
Anyone who has ever tried to create or maintain an online community which is open to user-contributed content knows how ridiculously hard it is to strike a balance. Most people presented with the idea of Wikipedia before it was a reality would have told you that it was an impossible steady state to achieve -- that too loose an editorial hand would result in MySpace-like anarchy, and too tight would scare away any critical mass. Wales deserves a lot of credit for steering the ship down the middle and making the project a reality.
I'm an inclusionist by instinct, but I have sympathies for Wales' deletionist bent because ultimately Wikipedia is a human project rather than Google's mostly algorithmic one. Wikipedia only scales to the extent that people will volunteer their time to edit it. In other words (to adapt an old adage), if you have everything, how will you edit it? If people critical of the current deletionist stance would instead focus their energies on helping to improve the quality of the existing content, perhaps that would be room on the margin for the editors to expand their consensus definition of what they accept as 'encyclopedic'.
Posted by: Daren

at June 23, 2008 06:49 PM
Posted by: Seth Finkelstein

at June 24, 2008 12:18 AM
I had no idea that your involvement with wikipedia was so strained Seth and after following your links I must rank my-self as being pretty naïve.

The human cost you mention is a difficult for me to asses as I am only an onlooker but any impulse destined to imprint a culture, and wikipedia has, must by osmosis carry a human toll
Your apparent stature appears to make you an automatic invitee, as is Nick I notice!
Despite your understandable bias I believe that history will prove, the human cost notwithstanding, that the greater good will be served in the long run, not that that resolves your predicament.
The greater the profile the more the rub and I presume for some good reason.
Warm regards, Alan

Posted by: alan

at June 24, 2008 09:33 AM
George Orwell predicted this in "Animal Farm." No, wait, he was talking about Soviet Communists, wasn't he..?
Posted by: Steve C

at June 24, 2008 06:18 PM
Sometimes reasonable people do unreasonable things. Compare these two wikipedia entries ...
IIT Kalyanpur
AND
IIT Kanpur
.
For those who know - one is fiction and a long running joke from the campus. Makes me wonder how much junk we take for granted on wikipedia.
Posted by: Jim Mason

at June 26, 2008 11:48 AM
"His visions of a world with a neutral, biased-free, gratis encyclopedia readily available to everyone is, to my eyes, an admirable ideal." I am wary when I hear proclamations of "admirable ideals", as they have a way of turning into horrible messes.
The world isn't neutral - there are different cultures with different views of the world, of meanings and values, and hence of perceptions. Knowledge isn't neutral either, even determining that a "fact" is a fact may require careful selection and interpretation (and hence knowledge).
Thus, I don't find it surprising that the same topic may be treated quite differently in different language versions of Wikipedia (I don't address here the issue of validity, when distinct versions sometimes don't agree on such facts as dates and even gender...).
Each version may seem neutral to members of the group which produced it (and even that is obviously not true, witness some endless debates), as much as speakers of a language say that they don't have an accent, it's the others who have it.
Posted by: Miklos

at July 1, 2008 01:00 PM
Regarding Kevin Marks's comment about ads: readers of this blog may recall that Nick Carr had reminded us of Google Founding Fathers' lofty declaration (in 1998) about ads.
Regarding Wikipedia, you surely recall Jimbo Wales's pronouncement on Advertising on Wikipedia (in 2001), Wikipedia's partnership with Answers.com about "advertising revenues", and the big debate regarding the appearance of the Virgin Unite logo on the WP pages?
Posted by: Miklos

at July 1, 2008 01:52 PM
I don't believe deletionism vs. inclusionism has as much an impact on the content presented in Wikipedia as much as the actual humans doing the editor's job.
Miklos is absolutely correct. I think the differences between facts and perceived reality based on an individuals experiences make their contributions invalid until they're verified by a subject matter expert.
A while back I presented a few community driven platforms to an executive editor at work and joked about how lucky we (Americans) are that the Declaration of Independence and U.S. Constitution were not written on a Wiki.
Unless Wikipedia or any other application of the sort uses editors and contributors that have been properly vetted, its content will be nothing more than a mix of facts and opinions.
I am concerned with how the next generation, who has grown up connected to the web and prefer to do their "research" online, will be affected by the deterioration of historical references available through sites like these. Paired with the decreasing quality of our education system this is the perfect recipe for disaster.
Posted by: Claude

at July 5, 2008 05:01 PM
I have been a big fan of Wikipedia for years, considering one of the greatest discoveries of the 21st century. But over the last few years I have seen numerous contributors becoming frustrated with increasing bureaucracy and a "shoot first, ask questions later" (quoting Rific on my talk page) attitude from overzealous administrators or should I say cops.
This morning, after I created the article about the Open Web Foundation, I was surprised that seven (yes 7) minutes later the article was already nominated for speedy deletion for an alleged, unverified, copyright violation. This despite a clear guideline in the criteria for speedy deletion stating that "Before nominating an article for speedy deletion, consider whether it could be improved, ...". No attempt was made by the administrator to check if the article could be improved as he acted mechanically over a bot indication that their MAY contain a copyright violation.
More about this at http://jean.posterous.com/who-are-the-customers-of-wikip
Posted by: Jean

at July 25, 2008 08:05 PM
Post a comment
Thanks for signing in, . Now you can comment. (sign out)
(If you haven't left a comment here before, you may need to be approved by the site owner before your comment will appear. Until then, it won't appear on the entry. Thanks for waiting.)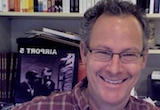 Subscribe to Rough Type
Now in paperback: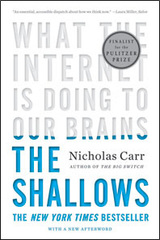 Pulitzer Prize Finalist
"Riveting" -San Francisco Chronicle
"Rewarding" -Financial Times
"Revelatory" -Booklist
The Cloud, demystified: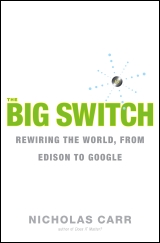 "Future Shock for the web-apps era" -Fast Company
"Ominously prescient" -Kirkus Reviews
"Riveting stuff" -New York Post
Greatest hits
Avatars consume as much electricity as Brazilians
The love song of J. Alfred Prufrock's avatar
Flight of the wingless coffin fly
Other writing
The end of corporate computing
The limits of computers:
Order from Amazon

Visit book site