« A manifesto for greener servers | Main | The Office question »
Like, hello?
December 17, 2007
Pew researchers have issued a new report (pdf) on personal web behavior. There's nothing particularly surprising in the findings - other than the shockingly low rates of self-googling - but I had to chuckle when I saw Pew's Mary Madden offer an explanation for why teens are more likely than adults to restrict access to their social network profiles:
Pew also found that teens were more likely than adults to restrict who can see their profiles at an online hangout like Facebook or News Corp.'s MySpace, contrary to conventional wisdom. "Teens are more comfortable with the applications in some ways, (but) I also think they have their parents and teachers telling them to be very careful about what they post and who they share it with," Madden said.
Yeah, right. I'm willing to bet dollars to doughnuts that the primary reason teens restrict access to their Facebook and other online profiles is not because they are dutifully following their parents' and teachers' advice but because they're trying to hide stuff from their parents and teachers.
As for adults, the reason they're happy to let it all hang out is because, alas, there's nothing much to see. When was the last time you saw an adult being photographed while engaging in the ancient rite of tap-sucking?
Comments
I think you are absolutely right. When Facebook became useful for me I had to first negotiate with my 18-year-old son and we agreed I would neither ask for nor expect access to his profile.
He, of course, has no interest in getting access to my profile, knowing that it will be as boring as a wet weekend. Which it is.
Posted by: tomslee at December 17, 2007 11:39 AM
Not only do teens have a reason to hide, but adults have reasons to share, such as job hunting and networking.
Posted by: alexfiles at December 17, 2007 02:10 PM
Remarkable stuff. I first heard about this at a workshop for web 2.0 and Nokia. Now that its been substantiated I really need to think why children would be more prudent about who and when they ad.
I am curious to know if this is a post Myspace effect or is it age related? I guess the sample is only American which is a drawback of the Pew Stuff. Its always surprising to me how parochial the Americans are with their view of the world despite having it all at their fingertips.
Posted by: Charles at December 20, 2007 06:33 AM
Post a comment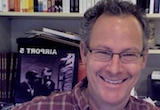 Subscribe to Rough Type
Now in paperback: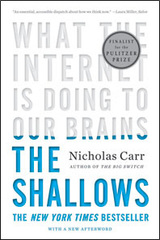 Pulitzer Prize Finalist
"Riveting" -San Francisco Chronicle
"Rewarding" -Financial Times
"Revelatory" -Booklist
The Cloud, demystified: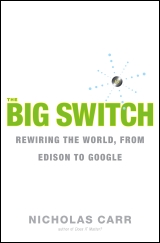 "Future Shock for the web-apps era" -Fast Company
"Ominously prescient" -Kirkus Reviews
"Riveting stuff" -New York Post
Greatest hits
Avatars consume as much electricity as Brazilians
The love song of J. Alfred Prufrock's avatar
Flight of the wingless coffin fly
Other writing
The end of corporate computing
The limits of computers:
Order from Amazon

Visit book site