« Vampires | Main | The science of blog reading »
Platforms want to be free
October 24, 2007
The network effect is being repriced to zero.
On October 18, eBay cut its "insertion fees" - the fees it charges sellers to list products on its site - by 33% or more across the board. The discount remains in effect through November 5 and is, as the Mercury News reports, "one of the largest temporary price cuts in eBay's history." It comes on the heels of the company's third quarter earnings report, which, while generally upbeat, showed that product listings on the site had dropped by 5% - just before the start of retailing's critical Christmas season.
"We want to see what happens when we take a price decrease of this magnitude," CEO Meg Whitman explained to analysts. But there's more going on here than just experimentation. That became crystal clear yesterday when Amazon.com announced its results, which revealed, as the New York Times reports, "the migration of smaller retailers onto Amazon's network." Said one analyst: "Amazon's third-party business is on fire ... People that dipped their toes in the water with Amazon a year or two ago have really expanded their selection."
As the Times notes, one of the big reasons that third-party product listings are increasing on Amazon's site, even while they're falling at eBay's, is that Amazon gives sellers free access to its retailing platform:
Unlike eBay, Amazon does not charge a listing fee for each item sold on the site. Instead it charges only a commission, taking an average 10 to 15 percent cut of each sale, depending on the category of product. That allows sellers to experiment with all their merchandise on Amazon and pay only when an item is sold.
For years, eBay has enjoyed remarkable pricing power. As the web's dominant marketplace for small-time buyers and sellers, it has been the beneficiary of a strong network effect, which allowed it to charge sellers for the privilege of accessing its platform. Indeed, it has regularly increased its listing fees, padding its revenues. Sellers grumbled, but they had little choice but to pony up.
Those days may well be coming to an end. The apparent shift of product listings away from eBay and toward Amazon, and eBay's decision to sharply discount listing fees heading into the Christmas season, indicate that competition is driving the cost of listing a product on a platform toward its marginal cost, which is, of course, zero. Buyers have never had to pay anything to access online retailing platforms; if trends hold, sellers, too, will get free access, paying only a commission when a sale is made.
This is part of a broader trend. The owners of online platforms that connect buyers and sellers, or, more generally, users and suppliers, are losing their ability to charge for access. Google charges advertisers no up-front fee to distribute ads through its network. Facebook charges software developers nothing to distribute their applications through its social network. With only a couple of exceptions, Craigslist charges nothing to post a classified ad. As private networks compete on the uber public network, the internet, the price for platform access falls inexorably toward zero. Any estimate of the real commercial value of the network effect needs to take this trend into account.
I don't know what percentage of eBay's revenues comes from listing fees, but if I were holding eBay stock, it's a number I'd be very interested in.
Comments
Perhaps there's one other factor driving this: savvy users are finding ways around artificial price structures. I've seen more and more ebay auctions which are selling for $1 plus $100 shipping & handling - probably because ebay normally charges based on the price but not the shipping. (If it were allowed to continue this would break the Amazon model as well.)
The eventual cost of appearing on ebay will be exactly that: the low cost of -appearing in a listing-, regardless of the price of your goods. Ta da: classifieds redux. (With extra costs/options available such as insurance, flashier ads, payment collection, etc. of course)
Posted by: Steve Eisner

at October 24, 2007 01:00 PM
It's not so much that platforms are free, but that people want to pay for results, not promises. A lot of the new disruptive business models revolve around this insight. Open Source and SaaS are all about paying for results, not promises:
http://smoothspan.wordpress.com/2007/10/25/the-world-wants-results-not-promises/
Posted by: BobWarfield

at October 24, 2007 11:11 PM
Bob:
I think you are mistaken. You don't need to get into some abstraction about promises v. results to analyze this. It's all about commodities.
Neither the e-bay nor the amazon "platform" for listings actually *does* very much, in today's terms. They both make some extremely trivial databases robust at huge scale. That's about all they do, on a technical level.
It's rapidly becoming cheaper and cheaper and easier and easier for anybody to do that. For that matter, it's becoming (not rapidly but, say, not sluggishly) easier to do that in a decentralized way -- so that no one company gets to own the database in question. (Arguably, that happens basically "for free" as a side effect of search services like Google.)
So, these listing services are like soft-drink companies now: nothing but marketing and arbitrage in commodity markets.
-t
Posted by: Tom Lord

at October 24, 2007 11:40 PM
I think that in any business that creates a marketplace, a category into which ebay and amazon both fall, there is a strong need for both sellers and buyers. Also, both parties need each other.
Once the market has matured, and I think we can say both Amazon and Ebay have proven their concept, then the fixed prices will naturally fall to zero in order for the market to attract more users.
I think this is especially true in technology because the platforms are built so scalable and there is very little scarcity - except of buyers and sellers.
Posted by: mikesabat

at October 25, 2007 01:11 AM
This is an interesting thread. Expanding this scope to including new sellers & buyers is the most logical next step. I'd love your input on something that we're hotly debating here at work (note, these were posted to my boss's blog but I'm very interested in this entire idea growing worldwide even moreso for very personal as well as professional reasons.)

"My Advice for Yahoo"

http://www.storyofmylife.com/User/user_journals_view.aspx?journalId=1221&UserId=1002
"oh yeah - Amazon"

http://www.storyofmylife.com/User/user_journals_view.aspx?journalId=1242&UserId=1002
Posted by: Amy Wilsch

at October 25, 2007 11:12 PM
Dead on, Nick. eBay, which started as almost a natural phenomenon, milked their customers to intolerable levels in recent years, while their stock promoters spun stories about corporate clients and China.
One of my temporarily shelved projects amuses me when I recall every business person I spoke to about it being shocked at the idea of results based income only. It is, actually, a very conservative economic viewpoint, based on the same principles that stimulate economic investment in response to tax cuts.
Vera
Posted by: Vera Bass

at October 26, 2007 01:23 AM
Post a comment
Thanks for signing in, . Now you can comment. (sign out)
(If you haven't left a comment here before, you may need to be approved by the site owner before your comment will appear. Until then, it won't appear on the entry. Thanks for waiting.)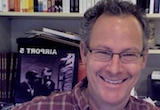 Subscribe to Rough Type
Now in paperback: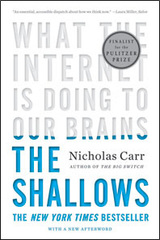 Pulitzer Prize Finalist
"Riveting" -San Francisco Chronicle
"Rewarding" -Financial Times
"Revelatory" -Booklist
The Cloud, demystified: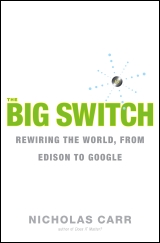 "Future Shock for the web-apps era" -Fast Company
"Ominously prescient" -Kirkus Reviews
"Riveting stuff" -New York Post
Greatest hits
Avatars consume as much electricity as Brazilians
The love song of J. Alfred Prufrock's avatar
Flight of the wingless coffin fly
Other writing
The end of corporate computing
The limits of computers:
Order from Amazon

Visit book site