« Users | Main | Microsoft is dead in theory »
The new heavy metal
April 26, 2007
The centralization of computing into the information-processing equivalent of massive powerplants is ushering in a "new era" of "application-specific computing," IBM technologist Bernard Meyerson tells John Markoff. IBM and Sun are today both introducing new high-end computers aimed at the emerging market.
The IBM machine, designed for online gaming applications, is a mainframe system based on the company's Cell chip. The "gameframe," as IBM calls it, is "a server system capable of permitting hundreds of thousands of computer users to interact in a three-dimensional simulated on-screen world" with unprecedented graphic quality, writes Markoff. The Sun machine, designed by Andreas Bechtolsheim, is a video server system that is "potentially powerful enough to transmit different standard video streams simultaneously to everyone watching TV in a city the size of New York." It is geared to cable and telephone companies looking to supply interactive video programming with personalized ads. Both machines may sell for upwards of a million dollars.
Markoff notes that such specialized supercomputers will compete against grids of cheap, commodity processors, such as the vast grid that Google is building. Markoff notes a remarkable statistic: "Google's computing prowess has now reached several million processors, according to one person with detailed knowledge of the system." Wow. The highest estimate of the number of processors Google runs that I've seen up to now is 500,000. It appears that number is now hugely out of date.
The race to outfit the new data utilities is on. It's Commodity Grid vs. Mainframe 2.0.
UPDATE: Raph Koster argues for a third way (for gaming, anyway), while 3pointD.com has more on IBM's machine.
Comments
I think the winning solution will be the one that provides the most compelling platform for third party developers to develop applications on.
Sun and IBM provide solutions which may have a real business opportunity in niche markets, but will they have the comprehensive easy-to-use software platform for the generic "Cloud" programmer?
In any case, Google and to a lesser extend Microsoft are the ones spending large amounts of money in setting up large physical IT plants. Neither seems likely to use anything other than hardware compatible with the PC architecture.
I'd also be interested to see Sony's response to IBM's push to toward Gameframes based on the technology it jointly developed for Playstation. Changing the terms of the relationship might seem like an appropriate defensive move for Sony.
Posted by: Filip Verhaeghe

at April 26, 2007 12:46 PM
This is another anecdotal sign to me that the IT sector is no different from any other: there are commodity products and there are specialized, almost luxury, products.
In our daily lives (in the US), we've seen the rise in low-end commerce (Home Depot, Wal-Mart, Costco, etc) and boutiques catered to local, high-end economies. To that end, I don't see that these specialized systems compete with commodity/grid systems.

Posted by: Chris K

at April 26, 2007 06:50 PM
Video streaming seems like an odd choice for a centralised mega-server. Surely you'd want over a 100 commodity boxes with huge disk arrays spread over the whole of New York. With a mega-server you'd have cascades of video streams flowing down the entire network from a single point at the centre. Backbone connectivity is far more expensive than the last-mile. Why flood an expensive resource when you could cache all the content close to the user?
And wouldn't it be a lot easier to ask local ISPs to buy XYZ configuration of Dell rack boxes, then install ABC system images on them? They can get it delivered in a week, and it'll behave like all the other boxes they own.
Computer games might be a better fit. There's a real need there to keep a single consistent environment accessible to a huge number of people.
Posted by: Thomas

at April 26, 2007 07:04 PM
This approach is going to become more and more prevalent as time goes on. If we link these specialised mainframes to the SOA story, (see "I Like heavy Metal" http://iconax.wordpress.com/2007/04/30/14/ ) we begin to see some very, very large service platforms becoming available that Super Service Aggregators (SSA) will use to provide business services to large enterprises. At the end of the day, there will only be a few of these players world-wide and they will want to operate in the most efficient and cost effective way. This means centralising services and lowering maintenance costs. Heavy metal is the most efficient and cost effective way.
Posted by: Clive Keyte

at April 30, 2007 06:07 AM
Post a comment
Thanks for signing in, . Now you can comment. (sign out)
(If you haven't left a comment here before, you may need to be approved by the site owner before your comment will appear. Until then, it won't appear on the entry. Thanks for waiting.)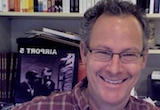 Subscribe to Rough Type
Now in paperback: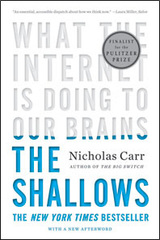 Pulitzer Prize Finalist
"Riveting" -San Francisco Chronicle
"Rewarding" -Financial Times
"Revelatory" -Booklist
The Cloud, demystified: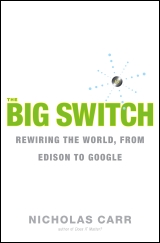 "Future Shock for the web-apps era" -Fast Company
"Ominously prescient" -Kirkus Reviews
"Riveting stuff" -New York Post
Greatest hits
Avatars consume as much electricity as Brazilians
The love song of J. Alfred Prufrock's avatar
Flight of the wingless coffin fly
Other writing
The end of corporate computing
The limits of computers:
Order from Amazon

Visit book site