« Working for free | Main | Oracle rolls up Hyperion »
Essjay disrobed
February 27, 2007
Last July, the New Yorker ran a long article on Wikipedia. At one point, the author, Stacy Schiff, told the story of a particularly dedicated and well-qualified contributor to the popular online encyclopedia:
One regular on the site is a user known as Essjay, who holds a Ph.D. in theology and a degree in canon law and has written or contributed to sixteen thousand entries. A tenured professor of religion at a private university, Essjay made his first edit in February, 2005. Initially, he contributed to articles in his field - on the penitential rite, transubstantiation, the papal tiara. Soon he was spending fourteen hours a day on the site, though he was careful to keep his online life a secret from his colleagues and friends ...

Essjay is serving a second term as chair of [Wikipedia's] mediation committee. He is also an admin, a bureaucrat, and a checkuser, which means that he is one of fourteen Wikipedians authorized to trace I.P. addresses in cases of suspected abuse. He often takes his laptop to class, so that he can be available to Wikipedians while giving a quiz, and he keeps an eye on twenty I.R.C. chat channels, where users often trade gossip about abuses they have witnessed.
Essjay is also, it now appears, a particularly accomplished liar. In an editor's note in this week's edition, the New Yorker reports:
Essjay was recommended to Ms. Schiff as a source by a member of Wikipedia's management team because of his respected position within the Wikipedia community. He was willing to describe his work as a Wikipedia administrator but would not identify himself other than by confirming the biographical details that appeared on his user page ... Essjay now says that his real name is Ryan Jordan, that he is twenty-four and holds no advanced degrees, and that he has never taught. He was recently hired by Wikia - a for-profit company affiliated with Wikipedia - as a "community manager"; he continues to hold his Wikipedia positions. He did not answer a message we sent to him; Jimmy Wales, the co-founder of Wikia and of Wikipedia, said of Essjay's invented persona, "I regard it as a pseudonym and I don't really have a problem with it."
If credentials don't matter, why bother faking them? Ah, well, Schiff put it best in the final line of her article: "Your truth or mine?"
Comments
Credentials probably helped add credibility to his earlier work on the site, but over time, his cred was likely attached more to his work than his faked credentials. Sounds a lot like the real world to me.
Posted by: Ed Kohler

at February 27, 2007 03:33 PM
"other than by confirming the biographical details that appeared on his user page"
It was in Wikipedia! That makes it truthy ...

Posted by: Seth Finkelstein

at February 27, 2007 04:12 PM
Aw, come on now..don't you think it's getting a bit old, bashing Wikipedia? Let's bash Second Life instead, this magnificent bonfire of vanities deserves it so much more
Posted by: darkobserver

at February 28, 2007 05:39 AM
A liar is a liar is a liar. No excuse for it.
Posted by: Windwing

at February 28, 2007 10:40 AM
Posted by: Seth Finkelstein

at March 1, 2007 08:18 AM
I am one of the people who Essjay lied to on a regular basis. I found him to be, in general, insightful. However, I cannot forgive that he lied to me, or his lies to the Wikipedia community and the public. It is a disgrace that Jimbo's response to being informed of Essjay's lies was to promote him, and his choice to do so sends a clear message about Wikipedia.
Wikipedia's credibility as an information source is bad enough without having to deal with having documented fraudsters as leading contributors.
Posted by: Kelly Martin

at March 1, 2007 01:40 PM
For Jimmy not to "have a problem with" Essjay's identity fraud is essentially for him to declare: you can falsely claim all sorts of credentials you like on Wikipedia, and not have them. Truth-telling about yourself really doesn't matter on Wikipedia, and credentials (of course) don't matter either. Perhaps we already knew this. But nothing has ever more eloquently illustrated it.
Posted by: Larry Sanger

at March 1, 2007 08:27 PM
I just thought for other people reading this blog they should know who Larry Sanger and Kelly Martin are. Larry was one of the cofounders of Wikipedia, essentially the COO to Wales' as CEO. Many of the early policies are Sanger's. Kelly Martin is a long time contributor whose held an 2 dozens offices on wikipedia and has founded many of the committees and structures that exist today. While both of them are in some sense "exiles" these a people who really understand wikipedia.
Posted by: JeffB

at March 2, 2007 03:16 PM
To be frank, I'm a little ashamed of the New Yorkers initial reporting on this. The journalist couldn't have taken the simple step of finding out where Essjay apparently got his degrees from or where he taught? A phone call would have disproved the sentences concerning Essjay.
Essjay is honestly the embodiment of Wikipedia -- anyone can write over someone else's history, including their own. He just happened to invent his up completely.
Posted by: PBH

at March 6, 2007 10:54 AM
Wikipedia IS fraud. The whole idea of free editing means nobody takes responsibility for the content.
So propagandists and all sorts of jokers, along with racists, religious bigots and the like are able to plant their lies at leisure. Wikipedia provides them with a platform and a training ground.
Essjay was not a sophisticated liar, there are many much better than him doing nicely from academic and journalistic fraud. Indeed, we should be grateful to Essjay for exposing the true nature of Wikipedia.
Please see my comments on the article about Roger Casement in the discussion page of Wikipedia.
Wikipedia is a disgrace to those involved in it. It should go offline until it sorts out the quality problem. The editors of articles should have the guts to put their names to what they write. kevin.mannerings@vr-web.de
Posted by: lugboy

at March 12, 2007 05:14 PM
Somebody tried to give Essjay some most excellent advice that he ignored completely. Here is that advice:Ryan: why not be practical about this? Is there any likelyhood that Stacy Schiff, the author of the column, is going to get her butt kicked about this? No, the possibility of that happening is zero. The New Yorker is one of the more well-established monthlys on the planet; it is not going away any time soon. The story is going to follow you around for decades if not the rest of your life. If you do not readily acknowledge the error and provide a correction, it will only lead to confusion along the same lines as, say, Jimmy's date of birth. I noticed that Mr. Brandt is already vilifying you as a latter day Jason Blair. He claims that you userpage contributed to the problem. Is that libel? Are you going to sue him over the matter? Why make his job so easy? Engage the TNY article. Provide your corrections assertively and in plain, direct language. Describe your past and your university degrees plainly. Let facts be presented to a candid world.--71.141.237.249 22:59, 6 February 2007 (UTC)
That adviser was me. I figured it would take two messages, so I started out with this messsage which I sent from a branch of the Palo Alto Public Library system: Being a tenured professor at the age of 24 is quite an accomplishment. Congratulations! There are some who are casting doubts on the accuracy of this characterization. Do you care to comment or, at least, clarify?--199.33.32.40 02:35, 6 February 2007 (UTC)
It was cruel of me because now Essjay and Musical_Linguist, who covered up the second message (who is identified at the Brandt's hivemind page) are guilty of not thinking but rather just accepting the newspeak and newthought of Jimmy Wales, who equates Wikipedia with Calvinball and then gets upset when people conclude that Wikipedia administrators are less mature than the average 12-year-old child.
I tricked both Essjay and Musical_Linguist into showing the world where their minds were.
Essjay was taken to task by the community for his response to my initial sarcasm:Actually, I did six hours of interviews with the reporter, and two with a fact checker, but I was really surprised that they were willing to do an interview with someone who they couldn't confirm; I can only assume that it is proof I was doing a good job playing the part. Essjay (Talk) 05:25, 6 February 2007 (UTC)
Playing the part...of a 12-year-old playing the part of a 40-year-old. Jimmy, of course, demonstrated to the World that the Truth that Schiff spent her life on communicating to others means zero to him because it is not his Pulitzer Prize and this is his game of Calvinball so he always wins. Jimmy, with his drugged-out "community" message of volunteerism, converts on the World Stage otherwise intelligent and sincere suckers..er.. I mean people into Wikipediholics and laughingstocks. In Jimmy's game of Calvinball, the joke is on us. It is time to detoxify the English Wikipedia project by stripping Jimmy Wales by restricting him to his "emeritus" position as a senior executive and evangelist and stripping him of his privileged account and purging Wikipedia policy and guidelines of any mention of Jimmy or any of his fiats that were implemented as policy, including his childish, hate-based Nixon-like "enemies list". In particular, NPOV should be renamed to "journalistic objectivity" and then citations to the standard textbook references on the subject should be provided. That would make Wikipedia grow up to to maybe the level of a 14-year-old. It would be a step in the right direction. Then there would only be 11 more steps to go in program of getting rid of this arrogant intellectual dope peddler who was delirious enough to think tat he could shove his psychedelic and narcotic encyclopedia down the throats of the clear-minded octogenarian leadership of mainland China.
Posted by: SallyF

at October 18, 2007 03:05 AM
Oh, I take one thing back. Jimmy finally claims on his blog that So, I notified Britannica about what my birth certificate and driver's license says, but they refused to change their article unless I was willing to send them copies of the actual documentation! Naturally, I refused to do so. Fortunately, an enterpising reporter did his homework and so now for the first time the world has a proper source.
Thank God in Heaven that those dumbo Nobel Prize winners over at that encyclopedia that Jimmy hopes to write the epitaph for finally got something right.
Of course, the fact that Jimmy's NNDB entry has had the full story for over a year does not count because... (drum roll please.... change the rules! This is Calvinball!) NNDB never was and never will be reliable source. Is that Tricky Dick's aftershave I smell wafting through the air?
Posted by: SallyF

at October 18, 2007 03:24 AM
While Essjay did post his real ID on his Wikia page, this Wikipedia Review thread that Brandt started in July 2006 Who is Essjay? finally yielded fruit with the reply on 11th January 2007. That is tipped off Brandt and set him off on his pathway towards Jordan's untergang. I do not think that Brandt want Jordan or Katefan0 to leave Wikipedia. He just wanted them to be accountable for their actions. That is what Jimmy's anonymity does: it increases the tension immensely so that when Brandt takes the mask of this or that Lone Ranger, Batman, Green Hornet or whatever masked hero is, some of them quickly fade away from the light. Like Clark Kent with a little Kryptonite shining on him. Childish. Of course, it is 10X worse if the anonymous admin turns out to be Lois Lane or Doris Day or some other pretty girl. (Oops. That last line would never get by the Marketing Department on its way out to the corporate blog).
Posted by: SallyF

at October 18, 2007 07:25 AM
Musical_Linguist is an highly qualified lecturer in piano at a fine school of music. One of Essjay's fake PhD was in Canon Law. Now I see that Musical_Linguist is hard at work on a serious paper about recent changes to the canon in music and literature. I just hope that in the future, Wikipedia offers some way for someone at her level of real-world accomplishment to verify the credentials of those she might choose to collaborate with and, as an admin, protect. People claiming high-level credentials should have a simple means to verify to each other that they are legitimate. I feel this way because real-life experts have paid their dues and should not have to keep on dealing with fakes. She is worthy of such trust. But I have to wonder if such a mechanism had existed at the time if she would have kept such information to herself or challenged Essjay to publicly renounce such claims and then gone public with this aspect of Essjay if he did not cooperate. Universities give out honorary degrees but that does not count. One purpose of the PhD is to establish a private club for the people who have paid their dues so that their time is not wasted on sycophants, charlatains and other groupies when they seek collaborators for authoring work for peer-reviewed journals. In the real world, the nature of having a PhD and being in a teaching position and publishing papers under your real name is that for your adult career you have no more anonymity: anyone who feels like it can easily find you. That is the way it has been for 100 years. That was one of the things that Brandt found so annoying: he knew that if Essjay was real, then that with enough work, Essjay could be found but that it was simply not quite worth the effort.
Posted by: SallyF

at October 19, 2007 12:55 AM
Post a comment
Thanks for signing in, . Now you can comment. (sign out)
(If you haven't left a comment here before, you may need to be approved by the site owner before your comment will appear. Until then, it won't appear on the entry. Thanks for waiting.)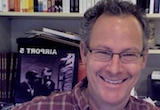 Subscribe to Rough Type
Now in paperback: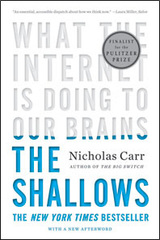 Pulitzer Prize Finalist
"Riveting" -San Francisco Chronicle
"Rewarding" -Financial Times
"Revelatory" -Booklist
The Cloud, demystified: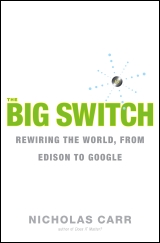 "Future Shock for the web-apps era" -Fast Company
"Ominously prescient" -Kirkus Reviews
"Riveting stuff" -New York Post
Greatest hits
Avatars consume as much electricity as Brazilians
The love song of J. Alfred Prufrock's avatar
Flight of the wingless coffin fly
Other writing
The end of corporate computing
The limits of computers:
Order from Amazon

Visit book site