« Is Wikipedia a black hole? | Main | The Montgomery-Finkelstein debate »
Honey, I shrunk the culture
January 23, 2007
Tim O'Reilly has a brief piece about how "the web has put a premium on short-form content." He's right, of course. The new medium is tuning our minds to take in information by the teaspoonful - from YouTube clips to what Google calls "snippets" of text. And producers, whether professional or amateur, are responding by serving up more "small chunks," to use O'Reilly's term. O'Reilly notes that his own company's "most successful new publishing projects ... are all built around short-form content."
It's hard to badmouth brevity, it being the soul of wit and all, and there's absolutely nothing wrong with "short-form content." An eight-line Emily Dickinson poem can stand beside a Miltonian epic and not look small, except in word count. And there's no reason to doubt that, sooner or later, a great YouTube artist will appear. Short ain't bad.
But long's good, too. Just as things that should be short shouldn't be made long, things that should be long shouldn't be made short. Many of man's greatest works demand and deserve extended, steady attention. They can't be boiled down. They can't be snippetized, widgetized, or otherwise turned into bite-sized morsels. You can't compress culture into a Zip file.
And that's the danger here. The new medium doesn't just promote the proliferation of small pieces; it devalues the long form. In fact, it doesn't even make room for big, extended works. It's actively biased against them, technologically and economically. More than that, though, it both reflects and reinforces our own increasing bias against anything that requires sustained attention or contemplation. As O'Reilly writes, the short form represents "the ADD style that today's interrupt-driven technology is driving us towards."
O'Reilly notes that "small chunks" are also attractive today because they're "modular." They're suited to what's come to be called "social production," in which a lot of people contribute a lot of chunks to create a big pile of chunks. But a big pile of chunks, whatever its merits, is different from and no substitute for a long or large work by a single hand.
"The medium," writes O'Reilly, echoing McLuhan, "changes the format in which content is delivered." In so doing, it also changes us. We're getting smaller, too.
Comments
This isn't anything new. Look at the impact technology has had on music. Popular music has now been shortened to 3:15 per song on average, compared to 40 minutes or more for classical symphonies and longer for Operas.
Our culture is far more complex than it was 25 years ago. We are exposed to a huge number of cutural concepts on a daily basis. Its possible for me to surf the web and trip across more cultural imprints than my father could have in a year. The speed with which we explore our culture doesn't give most of us time to explore in depth.
I think it probably also cheapens our discoveries because the amount of work needed to access this diverse culture is minimal. Nuance is lost. A generation or two ago, our parents and grandparents may have hung on the phrasing of a sax or trumpet solo. Today we seem to prefer repeated rhythms and lines.
We want things fast and just in time. Most importantly, we like to consume. Our culture is about consuming. The faster we can consume, the more attractive it is.
Posted by: MarcFarley

at January 23, 2007 11:41 AM
Pop songs have always been about three minutes long. OK, you might have had the odd minstrel along for an evening doing half-hour renditions of the tale of Beowolf or something, but the ones they were knocking out down the pub while banging tankards together were probably not much more than a few minutes apiece.
Even the church-bound plainsong chants and motets of pre-classical music from the likes of Palestrina and Pachebel were two, three, four minutes long.
Classical symphonic music was originally background music for a tiny group of people to chat to - but it managed to become the most respected musical form over time. People still listen to it and write it, but it has always been a minority interest.
All that happened was that, in the last century, the more complex art forms like symphonic music were promoted by mass media to a large population as things to aspire to. Apparently, that was elitist and a bad thing.
Posted by: Chris Edwards

at January 23, 2007 03:20 PM
"And that's the danger here. The new medium doesn't just promote the proliferation of small pieces; it devalues the long form."
But let's take the situation, say, 15 or 20 years ago. Wasn't just the opposite true? Back then it was easy to watch a 2-hour movie, but there was no distribution channel for a five-minute video clip. Now that the situation has been more-or-less reversed, I'm not sure that things are worse, just different.
Posted by: Meelar

at January 23, 2007 03:38 PM
The mass media of the 20th century gets a bad rap today, but it wasn't half bad. Sure, it promoted and delivered a lot of "down the pub" stuff, which, as Chris implies, has always been and will always be the mainstay of popular culture, but, as Chris also implies, it promoted and delivered a whole lot of more ambitious works that, in the past, were largely relegated to elites.
You know, I think we may miss the old mass media when it's gone. Then again, maybe we'll be too busy to even notice.
Posted by: Nick Carr

at January 23, 2007 03:44 PM
Posted by: alan

at January 23, 2007 04:00 PM
I loved the first paragraph and a half.
But that's pretty much all I can handle in one sitting anymore.
Posted by: Dan Ciruli

at January 23, 2007 04:15 PM
I'm not sure I understand. The same culture that allows the web to thrive (a medium in which the granular unit is the page and which is designed to give linkable page-level access to discreet chunks of information) is the same environment in which the Lord of the Rings films demonstrated that people were prepared to watch something for up for five hours, where pop songs are probably on the whole longer than they were when they were created, and where it is often argued that good television drama is an order of magnitude more dense and plotted than it was a generation ago. The tubes are full of people reading books. Harry Potter novels get more tome-like every year.
I'm puzzled, then, by any causality here. What effect is the web actually having on the rest of the environment? It seems to me that you could quite easily argue that it's had the exact opposite effect of the one you're describing. The world around us, it seems to me, is far from falling into granular chaos, while on the web all the kinds of media that actually should be more accessible, more findable, more searchable, more playful and more usable are becoming so. Poems, as you say (and as I did a couple of days ago) are more findable. News articles are free from newspapers. They're no shorter than they were, but they actually seem to be more useful in this new environment than before. The short-form gets better in this environment. The long-form remains.
And in the meantime, really, are you going to argue that the world hasn't been made better by the ability to find and read core component bits of information more rapidly? You really think that O'Reilly's literature, which is primarily focused around learning and reference couldn't be improved by making it searchable or accessible? You really think that information being more fluid and redistributable somehow makes us smaller? Or are you—as I suspect—talking about a hypothetical group of people who have stopped reading Dosdoevsky on their screens so that they can hang around on MySpace?
I've never really bought this argument that we live in a world of people with a shortened attention span. It seems to me that the reason people get bored more quickly is not a desire for instant gratification as much as it is that they're much more sophisticated consumers who have grown up with an enormous mass of material all around them which they've learned to process and play with more rapidly.
I'll be honest with you, at times I have sympathy with your view here because there's so much stuff being created and it's so hard to keep up with it all. It can be overwhelming, and much of the stuff produced (as it always has been) is crap. It's easy to stand there and say the world's all going to hell in these circumstances, but realistically it's just not true. And even if it was, sitting on the sidelines lamenting the apparently inevitable direction of change wouldn't accomplish very much.
Posted by: Tom Coates

at January 23, 2007 07:39 PM
The world's been going to hell in a hand basket ever since the first cave man survived improbably into middle age.
Now, you kids get off of my yard!
Posted by: Jim Stogdill

at January 23, 2007 09:16 PM
Tom,
Thanks for the very thoughtful response.
re: You really think that O'Reilly's literature, which is primarily focused around learning and reference couldn't be improved by making it searchable or accessible?
Of course I don't, nor did I say anything of the sort. What I'm talking about is the slow but steady shift toward media that, as O'Reilly put it, reflect and reinforce "the ADD style that today's interrupt-driven technology is driving us towards." I don't know if you'd agree that a major shift in media produces an equally major shift in our relationship to information, ideas, and language and even in the way we think, but I'm quite convinced it does. These changes play out over many years - decades - and you can't assume that what you see today represents the future. The broadband Internet is a very new medium. The big changes are only now beginning.
Posted by: Nick Carr

at January 23, 2007 10:10 PM
I hugely envy my kids the digital culture in which they will be growing up.
Having watched how "matter-of-factly" they take to the Web/Mobile Phones/MP3 players/etc I can but bemoan the fact that I hear myself saying - "I remember a time when you had to..." and know I sound just like MY parents!
I have no idea how it will all play out over time but I know my responsibility is to pass on what I consider to be the important bits of my culture, and have them breath new life into it to keep it relevant to a new generation. And so I shall.
Posted by: Michael Walsh

at January 24, 2007 11:32 AM
I'm going to align with Tom here, and wonder whether what you're saying can't be resolved down to 'the growth of the web means there's more of the content-form that's best suited to the web', which is just a truism.
It's not as if we're shifting directly from the Victorian-era newspaper with its verbatim reports of parliamentary speeches -- and the decline of that long-form was bemoaned less than a century ago.
And I can also see the opposite phenomenon, in the rise of narrative television programming that's seemingly denser in character because there exist online communities in which to tease out significance from small details. (Steven Johnson's hypothesis, if you like.) That's to say, the social production exists in parallel to the narrative production, rather than as a replacement, and the closest analogy that comes to mind is the communal exegesis of religious texts in places of worship and study.
I look at long-form writers like David Foster Wallace and Thomas Pynchon and see some parallels. I look at the eighteenth-century periodical essay and see others. I celebrate the symbiosis between the web and speech radio, the latter of which has always been long-form in its sensibility.
And to expand upon one of Tom's points: at this moment in time, what YouTube gives us most of all is primary sources, which are not narrative in character. Perhaps that means we need better or better-honed analytic skills because we're now dealing in source material of one form or another, rather than Whig-history grand narratives. But I don't see it as inherently lessening.
Posted by: Nick Sweeney

at January 25, 2007 08:02 AM
(And just to supplement my first analogy: we may no longer have newspapers publishing Mr Disraeli's speeches verbatim, but it's never been easier to find out what MPs have been speaking about.)
Posted by: Nick Sweeney

at January 25, 2007 08:06 AM
Tom and Nick are both spot on, and so effortlessly so that I have trouble understanding your original criticism, apart from some crazy-old-man rant.
What I think I can add to this discussion, and which I think you'll appreciate (and hopefully not dismiss as casually as you did Tom's valid point), is an economic perspective. Before the Web, it wasn't economically feasible to distribute content in small chunks. If you did small chunks, it had to be collected with other small chunks (in a magazine, newspaper, sketch comedy television show). There wasn't an economic model that really supported the release of a standalone 3-minute non-music video, or a standalone 1000-word essay. Essays had to be bundled with other things in order to get someone to fork over $3.95 to pay for it -- even if the purchaser just wanted that one essay.
The Web has made it feasible to deliver 3 minutes of video, or 1000 words of text, on its own, without any bundling. I suspect it's less a matter of the shrinking of our culture (because, as Tom and Nick S point out, there's plenty of crazy-long-form media that is doing well), and more a matter of the market simply providing more options for expression across a spectrum of delivery sizes, and people are taking advantage of them all.
Posted by: peterme

at January 26, 2007 12:29 AM
Post a comment
Thanks for signing in, . Now you can comment. (sign out)
(If you haven't left a comment here before, you may need to be approved by the site owner before your comment will appear. Until then, it won't appear on the entry. Thanks for waiting.)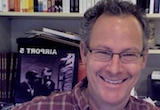 Subscribe to Rough Type
Now in paperback: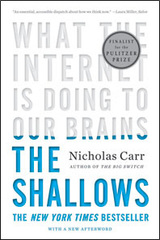 Pulitzer Prize Finalist
"Riveting" -San Francisco Chronicle
"Rewarding" -Financial Times
"Revelatory" -Booklist
The Cloud, demystified: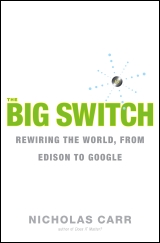 "Future Shock for the web-apps era" -Fast Company
"Ominously prescient" -Kirkus Reviews
"Riveting stuff" -New York Post
Greatest hits
Avatars consume as much electricity as Brazilians
The love song of J. Alfred Prufrock's avatar
Flight of the wingless coffin fly
Other writing
The end of corporate computing
The limits of computers:
Order from Amazon

Visit book site