« Eric Schmidt's tough talk | Main | In your ear »
Microsoft's rebuttal
November 22, 2006
As if replying to Eric Schmidt's prediction of the imminent demise of desktop software, Microsoft's Antoine Leblond pooh-poohs the threat in a new Reuters interview:
Leblond, who became co-leader of the Office group in June, said Google was the latest in a long line of challengers to the Office software suite ... "The simple argument that 'this is good enough for 90 percent of what we do' has fallen on its face over and over and over again," Leblond told Reuters in an interview on Tuesday. "When it comes to mission critical things and key pieces of how people run their businesses, the threshold is higher."
Leblond continues with his defense of what he terms "old school" applications:
"Free software has an appealing ring to it, but free software has been around for a while now and it turns out free doesn't trump the software doing what people need it to do," said Leblond, a 17-year veteran of the Office team. Microsoft's new Office Live is an example of its "software plus services" approach. It lets small businesses set up Web sites, company-branded e-mail and Web applications to allow project management and collaboration. It works with Office but the programs are largely different from those familiar to desktop PC users.
The lines are drawn. It's Old School versus New School in Office War 2007.
Comments
It's more then two schools.
Open versus Proprietary
Fat PC's versus thin and web client
Product versus Service
Free (gratis) versus Commercial
Free (libre) versus Controlled
User versus Ad Sponsored
And you can add more. This makes for strange bedfellows (see Novell and Microsoft), alliances raise and fall (RedHat and Oracle) and those who seem to be everywhere and nowhere (Sun and Apple).
Posted by: Gil Freund

at November 22, 2006 04:07 PM
I can't help but think that this is a battle of software that people see the value in using and paying for with dollars versus software that people see the value in using but paying for in currencies other than dollars.
It depends on a businesses willingness to absorb the risk of one platform over another. Its the same problem when choosing one vendor over another - price, features and what your business needs are the main criteria. Open source or not is no more a business risk than will the company/project go under.
Why try and make the "battle" any more epic than this?
E/.
Posted by: Evan Wise

at November 23, 2006 01:42 PM
Post a comment
Thanks for signing in, . Now you can comment. (sign out)
(If you haven't left a comment here before, you may need to be approved by the site owner before your comment will appear. Until then, it won't appear on the entry. Thanks for waiting.)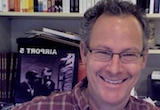 Subscribe to Rough Type
Now in paperback: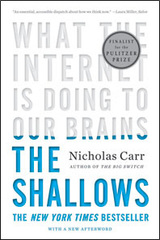 Pulitzer Prize Finalist
"Riveting" -San Francisco Chronicle
"Rewarding" -Financial Times
"Revelatory" -Booklist
The Cloud, demystified: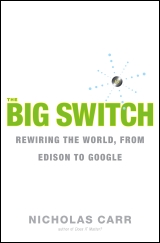 "Future Shock for the web-apps era" -Fast Company
"Ominously prescient" -Kirkus Reviews
"Riveting stuff" -New York Post
Greatest hits
Avatars consume as much electricity as Brazilians
The love song of J. Alfred Prufrock's avatar
Flight of the wingless coffin fly
Other writing
The end of corporate computing
The limits of computers:
Order from Amazon

Visit book site