« Universal sues MySpace over "user-stolen" content | Main | Microsoft's rebuttal »
Eric Schmidt's tough talk
November 22, 2006
Google CEO Eric Schmidt has been coy in discussing his company's ambition to create an online alternative to Microsoft Office. Just a few days ago, at the Web 2.0 Summit, Schmidt "played the semantic game" in discussing office suites, reported Dan Farber. Schmidt claimed "that Google is developing applications for just 'casual' use. 'We don't call it an office suite. It's not targeted at the [Microsoft] Office – we never made that claim.'"
But a very different, and much more aggressive, Eric Schmidt appears in the Economist's new "World in 2007" issue. Schmidt contributes an article titled "Don't bet against the Internet," in which he makes a striking prediction. Next year, he writes, "we'll witness the increasing dominance of open internet standards." These standards "will sweep aside the proprietary protocols promoted by individual companies striving for technical monopoly. Today's desktop software will be overtaken by internet-based services that enable users to choose the document formats, search tools and editing capability that best suit their needs."
Suddenly, a seemingly modest goal of promoting the "casual" use of online office applications has become a tsunami that is about to "sweep aside" the proprietary protocals and formats "promoted by individual companies striving for technical monopoly." (Yes, he's talking about Microsoft.)
This marks a revealing rhetorical shift for Schmidt, who's been careful (and, I think, wise) in avoiding a head-on attack on Office. Google Spreadsheets, for instance, was introduced mainly as a complement rather than a competitor to Excel, one that could extend the functions of the Microsoft product by maintaining compatibility with Microsoft's proprietary protocols and formats. Google was avoiding Netscape's failed strategy of confronting the Colossus of Redmond directly. Instead, it appeared content to try to eat away at the Microsoft franchise from within, to play, at least temporarily, by Redmond's rules.
That pretense has been abandoned with the Economist article. Now, Schmidt is making it clear that the goal is to topple Office - and soon: "Today we live in the clouds ... Simplicity is triumphing over complexity. Accessibility is beating exclusivity." 2007, apparently, will be the year that Google takes off the gloves in the fight for the future of personal business applications. Not coincidentally, it's the same year that Microsoft will be pushing customers to upgrade to a new version of its traditional Office suite.
Schmidt includes Microsoft Live at the tail end of a list of the kinds of new Web-based services that he says are redefining computing. But that's just to twist the knife. The new world, he says, is built on open-source software (the Linux-based "LAMP" stack), and in it Microsoft is just another company, if not an also-ran:
Sophisticated browsers and technologies like LAMP or AJAX ... are critical in this new world. They are the kind of technologies that transform audio, video, text and digital data into intuitive, easy-to-use services. They make Google, MySpace, YouTube, Gmail, Yahoo! and Microsoft Live possible, and they haven't even entered adolescence.
Schmidt's right about the future of computing. We are, as he says, seeing "a profound technological shift in computer science" that will end the dominance of the "client-server computing architecture." (It's what I've termed the shift from the second to the third age of computing.) The question is, is he right about the timing? Is 2007 the tipping point - the year Office begins to implode - or has Schmidt allowed confidence to become overconfidence? The answer to that question may well determine who becomes the dominant supplier of basic business applications.
Competition is intensifying, Schmidt writes, and that "ensures that products improve faster and become cheaper. If they don't, users go to a new entrant offering free or better versions." That's not a promise; it's a threat.
Comments
If entering the "3rd age" requires giving up Excel 2007 for Google Spreadsheets, I think I'll just stay back here. :)

Posted by: n00b

at November 22, 2006 10:25 AM
This is great because most of what the casual home user does can be handled by Google. Why should we update MS Office every 2 years if all we want to do is type the occasional letter.
Microsoft has the office market all locked up because most businesses just have blanket license agreements that just roll out updates automatically, but Google can make inroads in the group who doesn't need $299 worth of office-overkill
Posted by: Steven

at November 22, 2006 10:55 AM
Coy Eric vs Tough Eric


Coy Eric Schmidt is talking about Google and Microsoft.


Tough Eric Schmidt is talking generically about Internet-based applications vs. proprietary apps from companies striving for monopoly (nudge nudge, wink wink). There's his fig leaf.
Department of unintended consequences: Microsoft in marketing Office 2007 is going to be spreading a lot of itching powder over the Office installed base. Their presumption is that the only way people can scratch the new itch is to fork over the cash for a Microsoft upgrade. Microsoft marketing will be creating a big opportunity for someone with a great product to step in. Does anybody have that product?
Posted by: Mickeleh

at November 22, 2006 12:33 PM
Sounds like Google is desperately hoping that the time has passed where Microsoft's dominance of the desktop market makes much of a difference. But it will take more than generalizations from Schmidt to keep people from buying Vista and firing up hybrid WPF apps.

Posted by: Brad

at November 22, 2006 12:35 PM
I would love an Office that lives on the Internet, requires no installation, and runs from any Internet-connected PC I sign into anywhere in the world. Unfortunately, there is no product publically known that can do this without sacrificing too much functionality. But let's assume Google has a product up its sleeve, ready to beta launch, that is dramatically better than what they have now.
What Google seems to ignore is that revenue from the Office product line comes mostly from businesses, not consumers (unlike Windows).
Now it is great that documents are also stored in the cloud, available to you right there with your application. But it is unacceptable that these documents are not encrypted in a way that Google themselves cannot read the documents. As long as (intermediate) document/data is stored in unsecured format anywhere outside of the company's firewall, using that application will be strictly forbidden within most companies.
Notice that for instance Amazon S3 provides raw disk space, and there are tools like JungleDisk that allow you to encrypt documents on the fly. Even Amazon cannot read what is stored on their disk. Amazon doesn't make money on advertising, they charge for storing stuff. So they don't need to see the content. Running a web application in my browser (not on their server), and storing my data on an encrypted disk not readable by the supplier, provides a secure way to provide web applications. It can be done.
For Google to be succesful in the corporate world, they will need to start paying real attention to confidentiality, without loosing the web deployment advantage. It can and will be done, but perhaps 2007 is a bit optimistic, and I'm not sure Google is the company to do it. Google wants to capture your data in all possible ways, not hide it from its own eyes.
I believe this information-grabbing behavior is fundamental to everything Google does, and it is their main weakness. It could allow others to seize that privacy opportunity, and take the corporate market. Perhaps even in the long run extend towards consumers who will want privacy as well.
Posted by: Filip Verhaeghe

at November 23, 2006 04:58 AM
The privacy angle is more complicated than just determining how the service provider charges for the app. If data is completely encrypted on the server, and only decrypted on the client, then the service provider is in a much more difficult position when it comes to providing services beyond data storage. If nothing else, some metadata needs to be visible on the server to provide any sort of data selection functionality. Yet as the amount of metadata increases to provide more interesting services, the transparency of the data also increases, thus negatively impacting privacy considerations.
I think it's possible that someone will come up with a good scheme for operating over opaque data, but it's not as simple as performing all encryption/decryption on the client.
Posted by: Anthony Cowley

at November 24, 2006 02:35 PM
Amazingly two faced, even by Google "don't be evil" standards. Sure, LAMP and Ajax are open, blah, blah, but Google gets full access to your data flow, cross referenced to searches, "private" email via gmail, etc. At best this is a ticking time bomb. Frankly, I'd prefer to use bloated Microsoft apps where my data isn't stored on Microsoft (or Google) servers. It's interesting that Google doesn't offer any form of encryption, for anything, nor is even willing to say IF it cross-indexes data--or if they EVER delete anything about you. How about an open protocol for *that* Dr. Open Systems?
Posted by: oprichniki

at November 25, 2006 02:46 PM
Post a comment
Thanks for signing in, . Now you can comment. (sign out)
(If you haven't left a comment here before, you may need to be approved by the site owner before your comment will appear. Until then, it won't appear on the entry. Thanks for waiting.)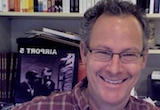 Subscribe to Rough Type
Now in paperback: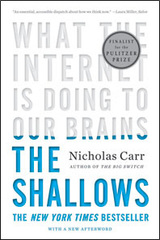 Pulitzer Prize Finalist
"Riveting" -San Francisco Chronicle
"Rewarding" -Financial Times
"Revelatory" -Booklist
The Cloud, demystified: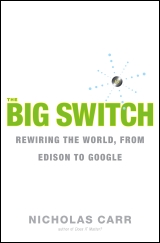 "Future Shock for the web-apps era" -Fast Company
"Ominously prescient" -Kirkus Reviews
"Riveting stuff" -New York Post
Greatest hits
Avatars consume as much electricity as Brazilians
The love song of J. Alfred Prufrock's avatar
Flight of the wingless coffin fly
Other writing
The end of corporate computing
The limits of computers:
Order from Amazon

Visit book site