« So who's Sancho Panza? | Main | War of the lopsided octopuses »
Sky's the limit (again)
May 09, 2006
Good times are the best times for producing rosy scenarios. Things always look rosy right up to the point that they turn unrosy. That's particularly true in the advertising world. It's a business that can never stop forgetting that it's as cyclical as the pork-belly trade.
In an article today, CNET's Elinor Mills surveys some of the current rosy forecasts for internet advertising. Parks Associates says online ad spending in the US will rise to $23.5 billion by 2010, up from about $15 billion today. Piper Jaffray trumps that with a forecast that worldwide internet ad sales will jump to $55 billion in 2010, from the current $19.5 billion. "By most accounts," writes Mills, "the online-ad market barely has been tapped."
Back in 2000, the professional forecasters were equally giddy. In August 2000, Jupiter predicted a continuing boom in internet ads, with spending in the US growing at an annual clip of 30% through 2005. Online ad spending would rise, it said, from $3.5 billion in 1999 to $9.5 billion in 2002 to $14.3 billion in 2004. Veronis Shuler's Communications Industry Forecast, released at about the same time, painted an even prettier picture. It projected that the US online ad market would grow 40% per year, reaching $24.4 billion in 2004.
Of course, as we know now, these rosy forecasts were made at precisely the point of a cyclical peak in internet ad spending. Rather than going up, internet ad sales plummeted by 25%, from $8 billion to $6 billion, between 2000 and 2002. The cycle then turned upward again, with sales climbing to $9.6 billion in 2004.
Yes, things have changed between 2000 and today, and, yes, internet ad spending will likely increase over the long haul. But two things haven't changed: ad spending will continue to be cyclical, and we won't see the peaks until we're past them.
Here's my favorite line from the CNET piece: "It's also not a given that companies won't again cut their online-ad budgets, experts said." That's why they call them experts.
Comments
Nick - interesting on Internet ads as business model. Are you going to spend any time on your recent CRN interview on Utility Computing?
http://www.crn.com/nl/crndailynews/showArticle.jhtml?articleId=187201279
Would be good to get some further insight on this.
Thanks.
Posted by: Gillian Farquhar at May 10, 2006 10:54 AM
And NASDAQ is stuck around 2000. But I think that this time the way of thinking about Internet is much more conservative and the forecasts of the steady growth are realistic.
Posted by: Million Dollar Hosting

at June 26, 2006 12:41 PM
Post a comment
Thanks for signing in, . Now you can comment. (sign out)
(If you haven't left a comment here before, you may need to be approved by the site owner before your comment will appear. Until then, it won't appear on the entry. Thanks for waiting.)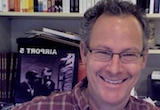 Subscribe to Rough Type
Now in paperback: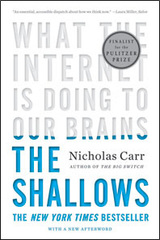 Pulitzer Prize Finalist
"Riveting" -San Francisco Chronicle
"Rewarding" -Financial Times
"Revelatory" -Booklist
The Cloud, demystified: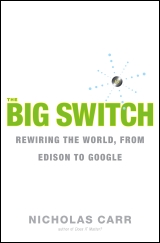 "Future Shock for the web-apps era" -Fast Company
"Ominously prescient" -Kirkus Reviews
"Riveting stuff" -New York Post
Greatest hits
Avatars consume as much electricity as Brazilians
The love song of J. Alfred Prufrock's avatar
Flight of the wingless coffin fly
Other writing
The end of corporate computing
The limits of computers:
Order from Amazon

Visit book site