« A problem has been detected | Main | Boot Camp and the PC war »
Grace notes and bank notes
April 06, 2006
The Web 2.0 Rorschach test continues. Doc Searls, having seen in the sharing of data and software among commercial web sites signs of the emergence of a higher morality in economics, founded on generosity rather than self-interest, now climbs another rung up his stairway to heaven. He discerns at work on the web the invisible hand not of Adam Smith but of God: "Whether or not the dismal science can brook the concept (and we're a long way from finding out), I do think grace is a big aspect of What's Going On. (A positive way we all get to play God, you might say.)"
Searls is inspired by a post from the blog of A.K.M. Adam, an Episcopalian priest: "I believe in the kind of interactions that Doc describes as a 'morality of generosity' ... As a theologian, I affirm the priority of grace (generosity, gratuity, giving) over other modes of interaction." It's "the response that blows my mind most at the moment," writes Searls.
Since Searls's touchstone for the new economics of grace is Flickr, maybe we should pause a moment and listen to what Flickr's owner, Yahoo, has to say about all this goodness. Seth Finkelstein, in a comment on my earlier post on this matter, points to a revealing passage in the recent Newsweek cover story on "the Living Web":
Flickr was a good business, too, as many users chose to pay the $25-a-year fee for unlimited photo storage and relief from advertising on the site. But that's not why Yahoo bought it for an estimated $35 million. "With less than 10 people on the payroll, they had millions of users generating content, millions of users organizing that content for them, tens of thousands of users distributing that across the Internet, and thousands of people not on the payroll actually building the thing," says Yahoo exec Bradley Horowitz. "That's a neat trick. If we could do that same thing with Yahoo, and take our half-billion user base and achieve the same kind of effect, we knew we were on to something."
I don't smell a lot of grace going on there. What I smell is good old-fashioned self-interest, maybe even an insidious, if fairly gentle, new form of commercial exploitation. Boris Anthony, in a fascinating post about the Newsweek piece, peeled the grace off the Web 2.0 phenomenon and looked at what lies underneath:
It's not about you, it's about your data - or "bits of your life digitized and uploaded" - and the way you structure it and contextualize it and share it. That's what the big money hubbub is about ...

I use Flickr every day - more like 300 times a day; it's my #1 destination, almost as often as my email inbox - and I manage weblogs that sport Google Ads and Technorati tags and del.ico.us links and all that stuff. I just want to try to make sure people actually realize what is going on.

We are all working for them. For free. That's how it's "about we". It's not a "media revolution", it's a reversion to feudal medievalism. "Voluntary servitude" it's been called (back in 1548!)
Maybe Searls's "grace" is just the opiate of the web masses. It wouldn't be the first time.
At the end of his post, A.K.M. Adam backs away from Searls's proposal of a higher business morality. He admits that he has "little worth saying" about whether "Web 2.0 makes altruism central to business success":
Sure, I root for companies to demonstrate the generosity that Doc commends, but I know less than zero about the balance sheets behind the people I know in The Industry. Maybe ... altruism (which is not just the same as "grace") bears no reliable connection to success in the Web 2.0 market ... Doc invokes the theology of grace to encourage business operators to show the same generosity that Flickr (a wholly-owned subsidiary of Yahoo) does — but I invoke the theology of grace because it's the right thing. Do it, eh?

After all, what does it profit someone to rake up a windfall on Web 2.0 and lose their soul?
In other words: Don't worship false gods.
Comments
Yes, but should you worship the money god?
I believe there are more than a 1000 passages in the bible that state to the effect or along the lines of a rich man has a poorer chance of getting into heaven than a camel passing through the eye of a needle. Jesus railed against money worship.
I believe there is a lot of high hypocrisy and rationalization going on.

Posted by: ordaj at April 6, 2006 12:31 PM
Why are Web 2.0 services deemed "exploitation"?
Isn't this a trade of services without currency?
In exchange for posting your pictures to the web for sharing with friends and family, Flickr shows advertisements to anyone who views these pictures.
If you deem this trade unfair, or too "expensive" in non-currency costs, then do not use it. Done.
Posted by: tim at April 6, 2006 01:56 PM
Let's assume it is exploitation. And let's also assume that - yes - the users are helping build this massive metabase. And yes, it would be nearly impossible for Yahoo (or anyone else) to pay for this alone.
Now what?
I still don't see the leap to taking all of that data (however obtained) and turning on some money. $25 per year for storage is not money. I can't imagine it warranting $35MM.
So what did they pay for again? Do the "Ads from Yahoo" make this all wortwhile?
Posted by: Rich Ziade at April 6, 2006 02:13 PM
It is always 'let the buyer beware'. Or let the browser beware. The same human dynamics are at work in Web 2.0 as any where else. If you feel exploited, don't go there. If you are having fun in Web 2.0 land, have fun (but be careful with your personal data).
Posted by: sethm at April 7, 2006 12:54 AM
Nick, you spoke my mind.
"It is not from the benevolence of the butcher Google, the brewer Flickr, or the baker del.icio.us that we expect our dinner morality, but from their regard to their own interest."
Posted by: Kingsley at April 7, 2006 04:49 AM
Wake the Dragon
published: Apr 4th 2006
We are moving towards a period on the internet where only a small number of companies control the vast amount of revenue that is generated in any one area of service offerings. We are also at a point were the likelihood of competing on a revenue basis with any of these large corporations that control most of the key areas grows smaller by the day. If one were to start a business that could possibly be replicated by any of the existing quasi monopolies one would find it very difficult to raise any investment capital from traditional institutional sources. Indeed most of the institutional investors that one would seek out would of course be looking for a return on their investment in a short period of time. This return on investment is usually expected to take the form of an IPO, or an acquisition.
Because of the current situation that sees a handful of companies dominating most internet technology markets; many investors would see any new entrant as a high risk. Most of the quasi monopolies could easily replicate any new technology, and because of this would more than likely not want to acquire any new entrants.
The lack of a market for acquisition will and has led to a shrinking amount of companies that have the financial ability and needed market traction to enter the stock market, and thus return a financial gain to investors. Many times a pending IPO is the prime mover in the acquisition of a competitor by a larger corporation. The acquisition allows the purchaser to acquire the company at a much lower possible price, and it also prevent the company being acquired from attaining the needed capital to expand, grow market share and compete.

While noting the above argument It is interesting and important to realize that the current scenario is not one that is new. Indeed it has played out in history before. One need only look at the old world media industry to see how market consolidation by a handful of quasi media monopolies has led to a lack of investment that would lead to competition. The main difference in the scenario above and the current one that exist in the internet business sector is that the old scenario of market domination, and consolidation has been super imposed as a belief model in an space that it will not fit.
Investment in the previous era of the non internet technology economy was needed to hire people and to purchase the need machines to do the job. You could not create a competing news paper without writers, presses, and distribution. One of the key barriers to entry was the cost of equipment. Because of technologies and in particular the internets evolutionary and revolutionary nature the old world economic barriers to company creation no longer exist. The cost and time that it takes to create an application are so small that the creator does not need to worry about the bottom line or break even points. There need not be a profit motive to create a compelling internet application. Just as an artist paints out of an inner drive to paint, a application developer can create because of a very similar inner drive. I believe that this will create a situation where the current quasi monopolies will ultimately fall to the mass community of application developers that will and have become creators for their own needs as well as for others. Because they have very small over heads and tend to be self funding thorough full time employment, they will be very difficult to compete with. They have an open distribution channel; they have access to low cost creation tools, and they are self funded with their own capital. The large corporations that are currently in the market must support large staffs as well as the expectations of investors that expect profit. They cannot compete against the many no cost and open competitors that are now entering and will continue to enter the market.
It will be seen that taking the revenue possibility away from potential competitors in the evolutionarily and revolutionary platform that is the internet does not decrease entrants, but increase entrants that cannot be competed with on a market share and thus a profit basis.
This kind of paradigm shift was seen early with the struggle of traditional newspapers losing classified readership to online creators that provided the same service at a low to no cost. The new entrants did not need presses and had an open and relatively free distribution channel. The newspapers had to sustain profits to support their existing infrastructure of men and machines, and in most cases because they were public companies had to return profit for investors. The newspapers were slow to go into the online classifieds market because they were under the assumption that for any of their online competitors to continue they would need to make large profits. They also viewed the internet in an old world economic framework that postulates that business are only created and survive when revenue can be generated that makes the endeavor profitable. Once the newspapers did react they discovered that they could not compete or gain any market share from the many classified advertising applications that now existed. Most of the existing classified applications have very little overhead and are not motivated by going public or large profit gains. Most do not have to support large machinery infrastructure or large numbers of employees. Because large profit is not the motive, the newspapers cannot compete.
Newspapers and other media are now seeing this same pattern with blog content creators. The blog creators have low over head and low or no profit expectation and an open distribution channel. Because of this newspaper cannot compete and will eventually become extinct online and possibly the in the off line world.
We are also seeing this in other media. Radio, television and film will be the next to fall to the masses of application creators that can create applications at little to no cost and expect and need low or no profits to keep the application going. No equipment cost, an open distribution channel and users that create the content.
No area of internet technology will be immune from the mass of application and content creators that now have the means and ability to create for creations sake readily at hand. Somewhere below the radar there are many competitors to Google and Yahoo and Microsoft. Sooner rather than later we will see these giants reel.
Posted by: William Dyson at April 7, 2006 05:38 AM
Post a comment
Thanks for signing in, . Now you can comment. (sign out)
(If you haven't left a comment here before, you may need to be approved by the site owner before your comment will appear. Until then, it won't appear on the entry. Thanks for waiting.)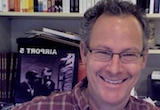 Subscribe to Rough Type
Now in paperback: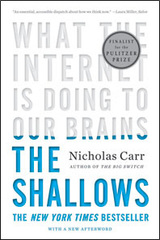 Pulitzer Prize Finalist
"Riveting" -San Francisco Chronicle
"Rewarding" -Financial Times
"Revelatory" -Booklist
The Cloud, demystified: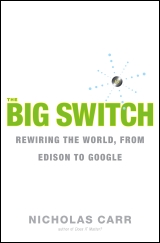 "Future Shock for the web-apps era" -Fast Company
"Ominously prescient" -Kirkus Reviews
"Riveting stuff" -New York Post
Greatest hits
Avatars consume as much electricity as Brazilians
The love song of J. Alfred Prufrock's avatar
Flight of the wingless coffin fly
Other writing
The end of corporate computing
The limits of computers:
Order from Amazon

Visit book site