« Market gerrymandering | Main | End of the megapixel war »
Salesforce.com's hiccups
February 01, 2006
When CIOs think about utility computing in general or software-as-a-service (SaaS) in particular, two things make them very nervous. The first is data security. The second is service reliability. The fears about security and reliability may be rational or not - usually, they're a little of both - but they're real, and the onus is on suppliers to allay them. No trust, no business.
It's against that backdrop that Salesforce.com's outage this week - its second in as many months - should be viewed. It's a big deal, not just for Salesforce but for the nascent SaaS industry. Dan Farber and his blogmate David Berlind have both done a good job of focusing attention on the right questions here. Farber points out that some of Salesforce's customers don't think the outage was "minor," as the company's CEO Marc Benioff termed it. If it's going to keep the trust of current users and earn the trust of potential new ones, Salesforce needs to be upfront about what happened, why it happened, and what the company's doing to ensure it doesn't happen again. As Farber writes, "Salesforce.com should be transparent – providing specifics – about any reliability issues." No system is 100% reliable, and I believe the SaaS model will ultimately prove to be considerably more reliable than the on-premise model, but obfuscation about an outage may end up doing more harm to a SaaS provider than the outage itself.
Berlind's post shows why. He writes that Salesforce's two outages raise "the very fair question" of whether or not SaaS "is ready for the mission critical needs of enterprises." He notes further that "we don't have to look back very far for a public reminder of the PR nightmare that could follow when a company overpromises reliability and underdelivers." By not being clear about the reasons for the service failure, Salesforce invites such skepticism from the press. If the press turns against the SaaS model, building the necessary trust to expand that model will become much, much more difficult.
Salesforce's outages raise another issue as well - one that will play a critical role in determining the structure of the enterprise IT business in the years ahead. Salesforce has chosen to maintain its own computing infrastructure privately. It not only develops, sells, and services the application, but it owns and maintains the server and storage hardware on which the application runs. It recently invested, in fact, in building two major new data centers. Other SaaS providers, including Salesforce competitor RightNow Technologies, have taken a different route. They don't own and maintain their own data centers but rather draw on the computing infrastructure of third-party utilities.
Which route is the better one? It's difficult to say definitively. But I think that in the end application utilities will be run separately from infrastructure utilities. They're very different businesses after all, with the application business being innovation-intensive and the infrastructure business being capital-intensive. It's hard for any company to be great at two different businesses simultaneously.
It may have made sense for Salesforce to control its infrastructure when it was starting out, but its recent hiccups raise the question of whether the company and its customers will continue to be best served by the dual-focus strategy. It's a critical question, given the fact that for a SaaS provider a sustained case of the hiccups could well be lethal.
Comments
Posted by: Mohit Mahendra at February 2, 2006 01:51 PM
I think the Salesforce hosted model is a fad that will pass over time. With something like SugarCRM, you can have it hosted by someone (Sugar or someone else) and bring it in house if you want. Running a LAMP box is so easy and inexpensive these days.
Posted by: pwb at February 2, 2006 06:49 PM
pwb - how long have you worked for Sugar? Idiot. And what a sorry name for a company too.
Posted by: Dan Blathers at February 2, 2006 10:36 PM
pwb - I don't think its a fad, just another option. It will always suit some needs and not appeal so much to others. It has economy of scale driven cost and reliability advantages (sfdc not quite there yet, but will get there ;)) that even running your own LAMP box may not easily match. Its another matter whether a multi-tenant on-demand vendor passes on those cost advantages to the customer. Over time, with more competition, they will.
Posted by: Mohit Mahendra at February 3, 2006 02:29 AM
I think one of the reasons why outsourcing the infrastructure and maintainence is so important is because it forces the customer, and vendor I suppose, to sharpen their thinking and take a very calculated approach to infrastructure. In other words, it takes infrastructure questions out of the realm of corporate politics as such. This can be a great benefit.
Posted by: Tom at February 6, 2006 08:59 PM
Fad?
You must be joking. Outages will heart all the rivals in this space, but the model is so young and explosive and makes sence to most SMBs.
There are other choices as well such as Salesboom and Entellium where uptime guarantees exceed 99.8%.
Posted by: Rami Hamodah at March 9, 2006 02:52 PM
Thought provoking article, I disagree with the authors view, I believe Salesforce's infrastructure is too critical to entrust it to a third party, as they scale up they should ensure they are able to resource their infrastructure to meet the SLA's their customer's expect. The question is what are SF's customers expectations? Well they will of course vary and the old addage about you can please some of the people some of the time... comes into play. On the point about transparency I could not agree more. If customers feel SF are trying to pull the wool over their eyes they will walk. Our company started using the SaaS model at the beginning of 2006, so far the benefits have been significant the total cost of delivery has been reduced and the speed with which changes can be implemented has increased.
Posted by: Charlie Barker

at October 14, 2006 06:45 AM
Post a comment
Thanks for signing in, . Now you can comment. (sign out)
(If you haven't left a comment here before, you may need to be approved by the site owner before your comment will appear. Until then, it won't appear on the entry. Thanks for waiting.)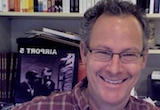 Subscribe to Rough Type
Now in paperback: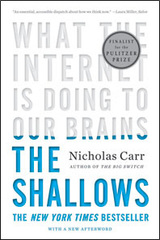 Pulitzer Prize Finalist
"Riveting" -San Francisco Chronicle
"Rewarding" -Financial Times
"Revelatory" -Booklist
The Cloud, demystified: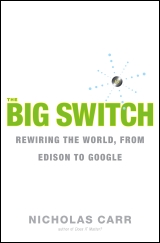 "Future Shock for the web-apps era" -Fast Company
"Ominously prescient" -Kirkus Reviews
"Riveting stuff" -New York Post
Greatest hits
Avatars consume as much electricity as Brazilians
The love song of J. Alfred Prufrock's avatar
Flight of the wingless coffin fly
Other writing
The end of corporate computing
The limits of computers:
Order from Amazon

Visit book site