« Is the ad bubble leaking? | Main | Google's trojan horse »
The geek's paradise
January 06, 2006
Microsoft still doesn't get it. I had allowed myself, as I read Ray Ozzie's recent memo on the transformation of the software business, to believe that a fresh wind was blowing through Redmond, that the Goliath of the desktop was genuinely interested in remaking itself for the post-PC age. But this morning I finally forced myself to watch Bill Gates's presentation at the Consumer Electronics Show. It was the same old Gates, the same old Microsoft.
Microsoft has always been obsessed with "features," with the new things software can be made to do. That obsession, which despite the lipservice routinely paid to "user-centricity" gives the technology precedence over the customer, served the company very well when the competitive battle was over control of the PC desktop. By constantly dumping more features into the box, Microsoft overwhelmed its competitors. It owned the box. But the PC is dead. Dead as a buggy whip. I don't mean the form factor of the PC; I mean the idea of the PC - the standalone, jack-of-all-trades-master-of-none box sitting on your desk or in your lap. That box is exploding into myriad devices, myriad services. What matters now is not features but tools, not complexity but simplicity, not coolness but usefulness. We're not geeks playing with technology; we're people trying to get things done with the least amount of hassle possible - maybe even with a little pleasure.
So what does Gates talk about? The "digital lifestyle" with "software at its center." Maybe robots want digital lifestyles, but human beings don't. Human beings want lives. This digital lifestyle, as Gates envisions it, is just another big pile of software features that we have to sort through and make sense of. We get up and stare into a vast computer screen in our kitchen, with multiple video feeds, multiple digital images of our children, and a map on which we can track the moment-by-moment movements of our family members. (What's next? The Xbox Digital Chastity Belt?) When we get to work we sit down in front of - guess what? - an even bigger computer screen filled with a bunch of software features, not to mention a handy tablet PC to doodle on. Go to the airport? Another big screen with another bunch of software features. As we move between the big screens, we have the little computer screen of our cell phone, loaded with, yes, a bunch of software features.
What's revealing about Gates's vision of the future is that it is completely devoid of direct human contact. It's a geek's paradise. You get to fiddle with software all day, from the moment you get out of bed to the moment you fall back into it. We're not freed from the box; we're trapped inside it. Endlessly.
In talking about media, Gates says software will make things "simpler." But then he tees up a demo, by another Microsoft employee, of a bunch of software features larded on top of new DVD technology - features that seem designed to be as annoying as possible. As you're watching a movie, for instance, you'll be able to superimpose all sorts of new doo-dads on your TV screen. Robert Scoble, Microsoft's resident blogger, speaks for the geeks of the world by saying this is "Neat!" but it's New York Times columnist David Pogue who nails the normal person's reaction:
Doesn't Microsoft realize that people HATE all the superimposed junk these days - the pop-ups, the network logo in the corner, the animated distractions? That's one of the main reasons we WATCH movies on DVD - to escape all of that detritus. And now we're supposed to buy a new player and a new DVD collection so we can superimpose still more crud on our favorite movies? Hello!?
I have enormous respect for Bill Gates. I admire his steadfast refusal to be anyone other than himself. I think he proved himself the greatest strategist of the PC era. His philanthropic work, particularly in fighting malaria, is a model that other billionaires would do well to emulate, as is his commitment to giving his fortune away rather than bestowing it on his kids. But if he's going to lead Microsoft successfully into the post-PC age, he's going to have to realize that while software may be at the center of his existence, it's not at the center of most people's.
Comments
Great posting, I can identify completely.
Posted by: Filip Verhaeghe at January 6, 2006 02:39 PM
Amen. You did forget that, in addition, it all never completely works right. Babysitting technology is a drag.

Posted by: ordaj at January 7, 2006 12:51 AM
"The PC is dead...", yawn...
I remember about ten years ago, the PC was claimed dead then too (the NETWORK COMPUTER will make the PC obsolete). Some homework would be appreciated: http://www.gartner.com/press_releases/asset_132413_11.html
By the way: I love my tablet PC, my wife loves her laptop.
Posted by: Stefan at January 8, 2006 05:28 AM
"The PC is dead..." I love this, yes but, hello are you writing this blog on Xbox :-)
And by the way my wife is not using computers at all.
Posted by: Valko

at October 16, 2006 02:19 PM
Post a comment
Thanks for signing in, . Now you can comment. (sign out)
(If you haven't left a comment here before, you may need to be approved by the site owner before your comment will appear. Until then, it won't appear on the entry. Thanks for waiting.)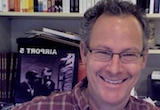 Subscribe to Rough Type
Now in paperback: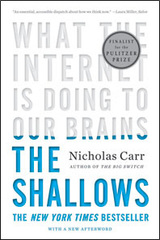 Pulitzer Prize Finalist
"Riveting" -San Francisco Chronicle
"Rewarding" -Financial Times
"Revelatory" -Booklist
The Cloud, demystified: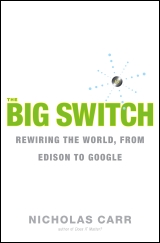 "Future Shock for the web-apps era" -Fast Company
"Ominously prescient" -Kirkus Reviews
"Riveting stuff" -New York Post
Greatest hits
Avatars consume as much electricity as Brazilians
The love song of J. Alfred Prufrock's avatar
Flight of the wingless coffin fly
Other writing
The end of corporate computing
The limits of computers:
Order from Amazon

Visit book site