« Big brains, little profits | Main | Who's outsourcing whom? »
Introducing the impersonal computer
May 06, 2005
It's time to say goodbye to the personal computer and make room in our hearts (and on our desks) for its successor, the impersonal computer. For the last 25 or so years, we've been confusing the machinery of computing with its use; we've viewed the personal computer as indistinguishable from personal computing. It wasn't because we were wrong or misled. We had no choice. Because computing systems advanced more quickly than communications networks, the only way to make computing personal was to give everyone a dedicated computer, with their own microprocessor, their own hard drive, their own operating system and their own portfolio of software programs. "Personal computing" depended on, and was inseparable from, "personal computer."
But as networks and networking have advanced in recent years, it's become possible to use computers more flexibly - to centralize computing assets and let users tap into them over a network, say, or to tie a bunch of computers together into a computing grid that can be shared. We can now have personal computing with impersonal computers. That will will lead to a much more productive and flexible use of information technology, with lower costs and fewer maintenance headaches, among other benefits. It will also end up giving individuals access to even greater computing resources than can be provided by a single PC.
To get there, though, people will have to lose their sense of ownership over their machines. The biggest obstacle to the creation of computer grids, for example, is now as much attitudinal as technological. Individuals and, on a broader scale, corporate departments and business units don't like the idea of sharing their machines with others. Take it from Wolfgang Gentzsch, a former Sun engineer who heads a nonprofit that sets up grids for universities and government agencies: "People don't want to share ... it's almost like we know how to handle the technology, but the cultural issues, that's a big change."
Get over it, folks. Computing should be personal. Computers shouldn't.
Comments
That may be fine if you're a drone that only uses corporate approved software, but people always use tools in different and unforseen ways. How will this new "impersonal" computing accommodate the thousands of special-purpose applications that people use simply because they like the way these tools allow them to work?
Posted by: Tim Swan at May 8, 2005 09:58 AM
Thin clients, Citrix and systems alike were suppose to be the wave of the future. Impersonal computing is what it will be like in the near future with the ever increasing bandwidths and creating add-ons for setting up a highly customizable personal virtual wokspace should be no problem.
Posted by: Niels Wicherts at May 10, 2005 04:25 AM
The shift is difficult because of two other things
(1) Existing PCs do provide most of the computing power for day to day needs. People have invested in PCs, they are not paying much for mantenance. Most of them are not even upgrading. They will not go for the subscription model unless it is absolutely necessary. Say MS releases several new versions of Office, and the old docs wont open in the new one and vice versa. So we may not see it catching up for another 4 years or so.
(2) The subscription costs are quite high. At least compared to the daily cost of already procured computing resources. This interview by "Glenn Weinberg", vice president, Sun, http://www.ciol.com/content/news/2005/105051010.asp?nl=3_201514_May10 talks of about $1 per CPU hour fee. Using components out of China gives $300 computer. Just add Linux to it.
In a nutshell the pattern is not exactly like electricity. While in-house generation of electricity was expensive, expense of already procured computing cost is less.
Posted by: Shouvik basu at May 11, 2005 06:42 AM
Post a comment
Thanks for signing in, . Now you can comment. (sign out)
(If you haven't left a comment here before, you may need to be approved by the site owner before your comment will appear. Until then, it won't appear on the entry. Thanks for waiting.)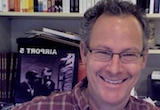 Subscribe to Rough Type
Now in paperback: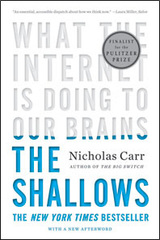 Pulitzer Prize Finalist
"Riveting" -San Francisco Chronicle
"Rewarding" -Financial Times
"Revelatory" -Booklist
The Cloud, demystified: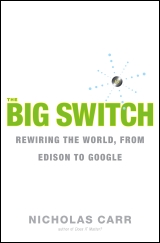 "Future Shock for the web-apps era" -Fast Company
"Ominously prescient" -Kirkus Reviews
"Riveting stuff" -New York Post
Greatest hits
Avatars consume as much electricity as Brazilians
The love song of J. Alfred Prufrock's avatar
Flight of the wingless coffin fly
Other writing
The end of corporate computing
The limits of computers:
Order from Amazon

Visit book site