« Searching for business | Main | What's IT worth? »
Deus ex computer
May 31, 2005
Noting that the world's biggest IT research house seems to have come round to my way of thinking - a Gartner bigwig spoke recently about "The End of the IT Department" - eWeek editor Stan Gibson writes that "there's an unmistakable bearishness about the careers of IT professionals these days." He tries to counter that bearishness with the suggestion that neither Gartner nor I "take into account the possible emergence of 'the next big thing,' which, experience has shown, you can't rule out." True, but who's to say whether the next big thing will lead to bigger or smaller IT departments? It seems to me that we're at the stage in the development of the IT infrastructure that the great advances from here on out will tend to make that infrastructure simpler, more reliable and more resilient - all of which will reduce companies' reliance on internal IT specialists. Besides, it's pretty cold comfort to think that your career prospects hang on the arrival of a deus ex computer.
Then again, Gibson is not quite on target when he writes that "everyone knows that author Nicholas G. Carr questions the importance of IT and, consequently, those who perform IT work." In fact, while I have strenuously argued that the strategic value of IT has diminished, I've also been clear in stating that the ability to manage IT well remains critical to a company's well-being. As I write in Does IT Matter?, "As companies move from buying and maintaining discrete pieces of hardware and software to managing a complex, integrated infrastructure, the importance of accomplished technical staff can't be overstated ... Until now, senior executives have had a tendency to view IT workers as generic, interchangeable parts - as faceless technicians - rather than as unique individuals with widely varying aptitudes and backgrounds. That view needs to change. As companies shift their focus away from the strategic implications of hardware and softrware systems to the way those systems are employed, the skills of the IT staff become more, not less, important."
I think that will be particularly true as we make the transition to utility computing. The companies that take the lead in capitalizing on such complex technologies as virtualization, grid computing, autonomic computing and web services will tend to be those with the deepest and strongest technical expertise. IT staffers thus face a conundrum: Their very success in the coming years will tend to reduce the need for their skills. But it's important to keep in mind that corporate IT departments are not the only place where smart technologists can find employment. As chips and software become integral components of many consumer goods - from cars to grocery carts - people with deep technical skills will become integrated into many traditional corporate functions. As IT people plot their paths, in other words, they should think beyond the boundaries of the traditional IT department.
Comments
Post a comment
Thanks for signing in, . Now you can comment. (sign out)
(If you haven't left a comment here before, you may need to be approved by the site owner before your comment will appear. Until then, it won't appear on the entry. Thanks for waiting.)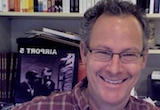 Subscribe to Rough Type
Now in paperback: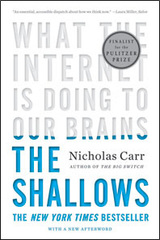 Pulitzer Prize Finalist
"Riveting" -San Francisco Chronicle
"Rewarding" -Financial Times
"Revelatory" -Booklist
The Cloud, demystified: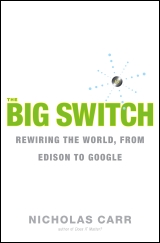 "Future Shock for the web-apps era" -Fast Company
"Ominously prescient" -Kirkus Reviews
"Riveting stuff" -New York Post
Greatest hits
Avatars consume as much electricity as Brazilians
The love song of J. Alfred Prufrock's avatar
Flight of the wingless coffin fly
Other writing
The end of corporate computing
The limits of computers:
Order from Amazon

Visit book site