« Abusing the airwaves | Main | Does Linux belong on your desktop? »
What IT's all about
April 20, 2005
Today's Financial Times includes the latest edition of the FT-IT Review, the paper's always-insightful supplement on information technology. (If you want to read it online, you have to subscribe to FT.com, I'm afraid.) There are a few pieces on the evolution of the Internet as a platform for commerce, looking in particular at the strategies of the entrepreneurs behind BitTorrent, Skype and other new products. Dan Gillmor, in a column, sums things up by arguing that we're now seeing the emergence of the third version of the Internet. The first version was read-only (looking at web pages), the second was read-write (posting messages or writing blogs) and the third involves the use of the Internet as a basic operating system for computing.
"An operating system," Gillmor writes, "offers programmers something called an 'applications programming interface,' or API ... The electric outlet in the wall is, to stretch the metaphor, an API. A manufacturer making a product that uses electricity can equip it with a plug that fits into the socket. A variety of web APIs, offered by companies such as Google, Yahoo!, Amazon and others, is letting programmers create new kinds of applications by wiring together various functions into what are called 'web services.'" We're moving, in other words, from a bunch of individual operating systems, installed on personal computers and maintained separately, to a single, shared operating system.
The FT supplement also includes an interesting article, by Joia Shillingford, on the rampant confusion regarding the term "utility computing." According to a new survey, two-thirds of business managers have never heard of utility computing, and most of the rest have heard the phrase but are clueless about its meaning. As Shillingford reports, "the source of the confusion isn't hard to find." It lies in the fact that IT vendors all tend to define the term in different and usually self-serving ways. When that happens, normal people quickly tune out. But, as Shillingford also notes, the basic idea is actually "very simple." Rather than use your own private computing power, you "plug in" to centralized computing power owned and maintained by outside suppliers.
What the FT doesn't do is connect the dots between the Internet operating system described by Gillmor and the utility computing model described by Shillingford - though the connection is implicit in their mutual use of the electric utility metaphor. In fact, both phenomena stem from the same source - the transition of computing from a bunch of fragmented assets to a common infrastructure that we can all tap into. As I explain in my article The End of Corporate Computing, there's no need, in this new world, for individual companies to own and maintain all the basic assets required for computing - those can all be maintained centrally, and efficiently, by utilities. Everyone can draw on those centralized resources, and customize them to their own needs, by using the shared Internet operating system.
At this very moment, I'm composing this blog entry through a window on my web browser. The software application that will actually format and publish the entry - Movable Type - doesn't exist on my PC. It's running on some big computer owned by a hosting firm named Dreamhost. (I have no clue where that computer is located, and I really couldn't care less.) All my blog's files also sit on a Dreamhost computer, which is now serving them up to you, dear reader, through your own browser. That, in a simple form, is utility computing. And it's where all roads are heading.
Comments
Post a comment
Thanks for signing in, . Now you can comment. (sign out)
(If you haven't left a comment here before, you may need to be approved by the site owner before your comment will appear. Until then, it won't appear on the entry. Thanks for waiting.)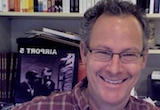 Subscribe to Rough Type
Now in paperback: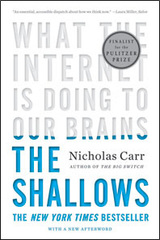 Pulitzer Prize Finalist
"Riveting" -San Francisco Chronicle
"Rewarding" -Financial Times
"Revelatory" -Booklist
The Cloud, demystified: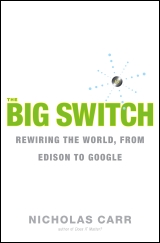 "Future Shock for the web-apps era" -Fast Company
"Ominously prescient" -Kirkus Reviews
"Riveting stuff" -New York Post
Greatest hits
Avatars consume as much electricity as Brazilians
The love song of J. Alfred Prufrock's avatar
Flight of the wingless coffin fly
Other writing
The end of corporate computing
The limits of computers:
Order from Amazon

Visit book site