« Brother, can you spare 64 bits? | Main | It's my company, and I'll cry if I want to »
Microsoft hearts SAP
April 26, 2005
If you can't beat 'em (or buy 'em), join 'em. That seems to be Microsoft's strategy for dealing with SAP, the leading purveyor of enterprise applications (the software programs used to automate basic business processes like budgeting). Having failed to make much headway with its own enterprise apps and having decided against an attempt to acquire SAP outright, Microsoft is now closely collaborating with its one-time rival. The first fruit of the partnership was announced today at a big SAP boondoggle in Copenhagen. Called "Mendocino," it's a program that links SAP's apps to Microsoft's ubiquitous Office suite of PC programs. So, for instance, you'll be able to pull those budget numbers from your company's SAP system directly into your Excel spreadsheet or PowerPoint presentation.
The co-written code seems to be a manifestation of a much deeper alliance. According to a press release, the two firms will next year begin jointly marketing a "business process platform" that "will serve as the foundation for the creation and deployment of composite applications." There's much to be read in the tea leaves of this announcement. Is Microsoft finally narrowing its strategy in the enterprise market, focusing on turning what it calls the "Microsoft Office System" into a unified user interface for business computing? Are Microsoft and SAP pursuing a nefarious plot to gain monopoly control over corporate IT infrastructure while avoiding the antitrust inquiries that a merger proposal would set off? Or are the two companies simply making their customers' lives a bit easier by getting rid of some of the barriers to the free flow of corporate information?
Is Mendocino a gift horse - or a Trojan Horse?
Comments
Post a comment
Thanks for signing in, . Now you can comment. (sign out)
(If you haven't left a comment here before, you may need to be approved by the site owner before your comment will appear. Until then, it won't appear on the entry. Thanks for waiting.)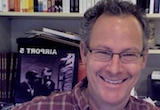 Subscribe to Rough Type
Now in paperback: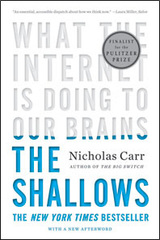 Pulitzer Prize Finalist
"Riveting" -San Francisco Chronicle
"Rewarding" -Financial Times
"Revelatory" -Booklist
The Cloud, demystified: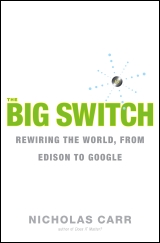 "Future Shock for the web-apps era" -Fast Company
"Ominously prescient" -Kirkus Reviews
"Riveting stuff" -New York Post
Greatest hits
Avatars consume as much electricity as Brazilians
The love song of J. Alfred Prufrock's avatar
Flight of the wingless coffin fly
Other writing
The end of corporate computing
The limits of computers:
Order from Amazon

Visit book site